This article is more than 1 year old
Got some fancy new flash in the works, huh Micron? Join the QLC
4bit/cell SSDs coming soon to attack nearline disk drive sales
Later this year Micron plans to release quad-level cell flash drives that encroach on the nearline disk drive market.
QLC flash stores 4bits/cell, whereas TLC stores 3, adding a third more capacity. A 6TB TLC SSD could become an 8TB QLC SSD using this technology.
QLC flash has a shorter working life than TLC flash and is thought to be more suitable for read-intensive applications, such as long-term stores needing faster access than disk drive-based repositories.
Micron revealed its plans at the A3 Technology Live Conference in London yesterday, showing this slide:
Micron SSD portfolio 2018
The QLC drive will be built from 3D NAND and have a SATA interface. Micron also showed a QLC flash wafer with 64GB QLC chips on its surface: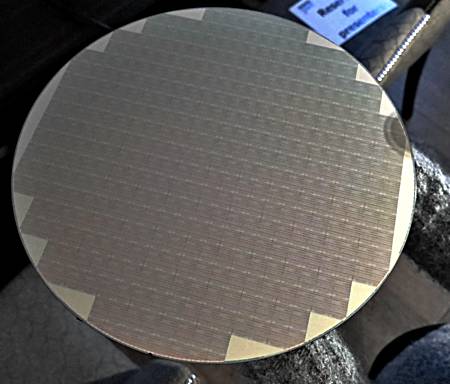 Micron wafer with 64GB QLC flash chips
It said this drive will have a feature set optimised for hyperscale use, and start attacking the 7,200rpm nearline disk drive market.
The Micron presentation also revealed that both an enterprise client and consumer NVMe SSD were coming. They would have faster access (~100μs latency) than equivalent SAS or SATA interface SSDs (~150μs latency). The client one will use PCIe 3.0 x4 lane and offer TCG Opal v2.0 and Pyrite security.
We think both of these will use TLC flash and arrive later this year.
Micron hinted that it will bring out Enterprise and Datacenter Storage Form Factor (EDSFF) "ruler" format SSDs, like its partner Intel.
Samsung, SK Hynix, Toshiba and WDC are also developing QLC flash.
+Comment
We anticipate that all five QLC SSD makers will target the enterprise fast-access, long-term storage market for use cases such as real-time analytics, entertainment and media video asset reuse, and high-value financial data records.
They won't take over the general nearline disk market because disk drives should have a $/GB advantage over QLC SSDs, which will be preserved as new recording technologies such as HAMR and MAMR enable 40TB, and greater, even out to 100TB disk drive capacities.
QLC SSDs will enable general all-flash array suppliers to take on Pure Storage and its FlashBlade product, which is, so far, in a league of its own.
We would expect Pure Storage itself to use QLC technology, possibly with marketing messages around better flash management and hardware-accelerated performance compared to competitors. ®