Wow, MIND-BLOWING: Florida Man gets an earful from 'exploding Apple AirPod' bud
Bloke claims expensive audio kit detonated mid-workout
A Florida man claims one of his Apple AirPods blew up as he worked out at the gym.
Jason Colon, of Tampa, said on Thursday he noticed white smoke coming out of the painfully trendy headphone bud, set the gizmo down on his workout machine, and went off to get an LA Fitness staffer for help. When he came back, Colon says, one of the pods had ruptured and was a charred mess.
"I don't know what would've happened to my ear," he told US East Coast news station WFLA. "But I'm sure since it hangs down, it could've been [my] ear lobe."
Apple did not respond to a request for comment on the matter.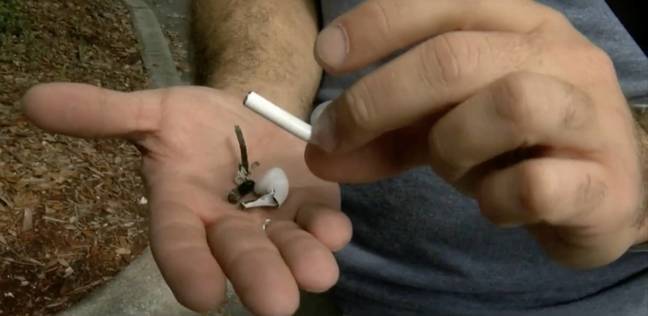 Wrecked ... Colon's ruined AirPods (Source: WFLA)
Unlike wired ear-pods that get power through the headphone jack, Apple's AirPods use a small rechargeable battery embedded into the earbud itself. It stands to reason that, like any other rechargeable battery, those units could be damaged or defective in a way that could cause them to rupture.
Such has been the case with various phones in the past, including Apple's own iPhone. Folks over the years have shown how, when subjected to bending, impact damage, or other defects, batteries tend to react badly.
Apple is, of course, not alone in what is a problem for any device that uses embedded rechargeable batteries. While the Samsung Note 7 may be the most famous example in recent memory, everything from laptops to fidget spinners can be a fire hazard if the battery is damaged. ®