How do you win at HCI? It's SimpliVity ... or maybe not, right Dell?
Magic quadrant shows HPE has its work cut out
Analysis What a difference a year makes: just 12 little months ago HPE was ruling the integrated systems roost, but fast forward and it has slipped behind as Nutanix and Dell EMC streak ahead - the latter with help from its VSAN gear.
In the latest Gartner HCI Magic Quadrant (MQ), hyperconverger Nutanix is bossing the HCI market, with Dell EMC and VMware next, and HPE relegated to the fourth spot. Company revenue numbers follow closely on Gartner's estimates. As Dell owns more than 80 per cent of VMware and OEMs Nutanix, it has managed to chalk up revenues outstripping those of Nutanix in the HCI segment.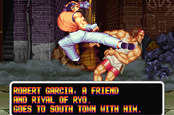 Partners? With them? No way, says HPE of Nutanix
READ MORE
NetApp appears to be gaining traction in the analyst's rankings with its SolidFire HCI, and Cisco is coming on strong, so if you go by Gartner's magic squares, HPE has its work cut out.
But let's look at the real numbers behind this.
According to HPE, a Gartner vendor rating said it had an installed base of about 6,000 SimpliVity systems in December, placing it among the top four hyperconverged vendors. HPE claims IDC market research shows global SimpliVity sales growing at four times the market rate.
IDC numbers crunched by Wells Fargo senior analyst Aaron Rakers and us show HPE in fifth position revenue-wise – behind Nutanix, VMware, Dell EMC and Cisco:
|   | Revenue $ | Share % |
| --- | --- | --- |
| Nutanix | 345,000,000 | 30.4 |
| VMware VSAN | 325,000,000 | 28.64 |
| Dell XC | 120,000,000 | 10.58 |
| Dell EMC-XC | 166,000,000 | 14.63 |
| Total Dell (Inc VMware) | 611,000,000 | 53.85 |
| Cisco | 65,700,000 | 5.79 |
| HPE | 54,000,000 | 4.76 |
| Others | 59,000,000 | 5.2 |
| TOTAL | 1,134,700,000 | 100.0 |
Gartner, meanwhile, has issued an updated hyperconverged Magic Quadrant that casts some light on HPE's progress: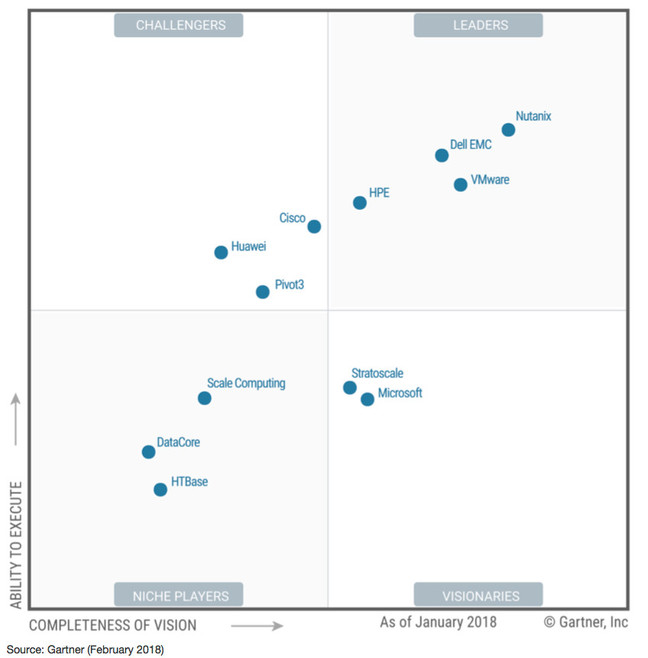 HPE is now number four vendor in the Leaders quadrant
Here's the previous Integrated Systems MQ: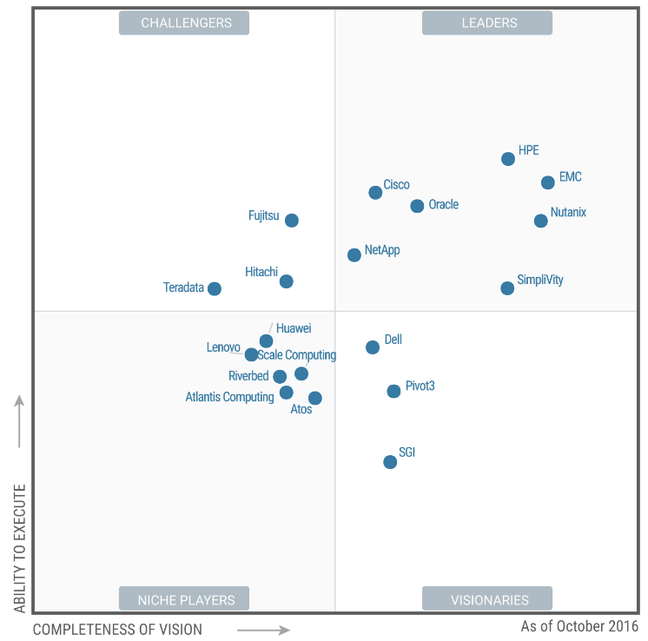 HPE was leading EMC, Nutanix and all the others in the Leaders' Quadrant of the October 2016 Integrated Systems MQ from Gartner. SimpliVity had its own presence in the Leaders' box. Despite HPE having bought SimpliVity in January 2017, it has fallen back in the Gartner mages' estimation. Curious.
In the older MQ, Gartner evaluated vendors within four classes of integrated systems, which masked the HCI market view:
Integrated infrastructure systems (IIS)
Integrated stack systems (ISS)
Hyperconverged integrated systems (HCIS)
Integrated reference architectures (IRA)
The latest HCI MQ focuses exclusively on vendors and products in the hyperconverged software segment, and drops the system hardware requirement. That means the HCI picture is not muddied by integrated systems and reference architectures any more, and software-only HCI systems are included, such as VMware's VSAN.
The HCI MQ shows The Challengers' box contains Pivot3, along with Cisco – pushed out of the Leaders box through integrated systems no longer being included – and Huawei. Pivot3 used to be in the Visionaries one, so that's good progress.
Scale Computing, DataCore and HTBase are Niche players, while Stratoscale and Microsoft are the two "Visionaries".
The HCI market has consolidated. Expect HPE to broaden and extend its SimpliVity range as it responds to stronger competition from fewer players, and tries to catch up with the Dell EMC VMWare HCI conglomo-beast.
El Reg has heard HPE is dangling incentives in front of its resellers/ integrators to win more new business clients, and nothing focuses the mind of channel middlemen more than the promise of cold hard cash. ®