How back of server pack rat Inspur has sailed into the top-three slot
Chinese firm blows past costly Cisco and Lenovo
Analysis Behind the numbers in Gartner's third 2017 quarter server tracker are some startling revelations concerning Cisco's server pricing and Inspur's arrival as a top-three supplier.
So what can we glean from this table?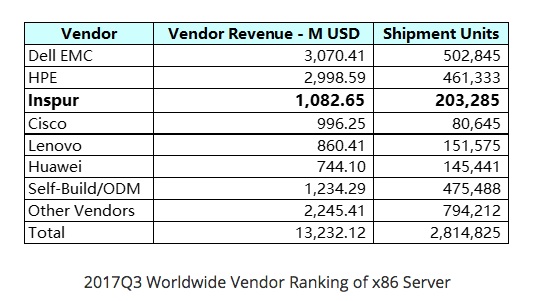 Inspur-presented Gartner Q3 CY2017 server numbers
Inspur
Seeing Inspur in number three was a surprise. How has that happened? Gartner says: "In recent years, Inspur has been the fastest-growing vendor. Among the past 14 quarters, Inspur witnessed the fastest growth worldwide in 8 quarters."
Geographically, "In China's server market, the top three vendors in shipments are Inspur, Dell EMC and Huawei. In the past 15 quarters, Inspur ranked first in nine quarters."
"China is the world's second-largest data center equipment market, with the highest growth rate in the global server and storage market."
Inspur saw a 336 per cent year-on-year growth in shipments in the first half of 2017 in North America. In the European market, where it doesn't have much of a presence, it has plans to establish strategic cooperation with NEC (Germany) and says it has won an order from one of the world's largest automotive factories.
So Inspur has overtaken, outgrowing Cisco, Lenovo and Huawei, and has shipped more than twice the number of servers Cisco has in this quarter, and significantly more than Lenovo and Huawei. Looking at the relationship between revenues and unit ships we can deduce that Inspur's is a volume play and based on a large home market advantage.
Inspur hyperscale strategy
But it also has a strategy of selling servers to hyperscale customers, several of whom are in China. Gartner says: "Of the top ten Internet technology companies with the highest market value, five have chosen Inspur as their strategic supplier. Inspur has taken largest share in the purchase of four of them."
It has a joint design manufacturing (JDM) business model and Peter Peng, a VP In the Inspur Group, talks of a "cooperative business process of joint research and development, supply chain management, production, payment and delivery to achieve long-term win-win relationship with our customers."
The company says that, with JDM, its production efficiency is increased by 30 per cent, which shortens the delivery cycle of high-volume orders from 15 days to five to seven and increases the daily server delivery capacity to 10,000 units. From R&D to supply, "the shortest cycle of a new product will be shortened to three months".
That's a high bar for Dell and the generic ODM suppliers to get over, and Inspur is aiming to come right at them.
Server ASPs
What about average server system prices? We graphed these Gartner revenue and unit ship numbers and you can immediately see the difference between Cisco's revenues and unit shipments compared to the other suppliers where the relative numbers are more similar. Cisco is getting much higher average revenue per server.
We can also see that the self-build/ODM sector makes far less revenue per server than the top six suppliers as well, as does the Others category: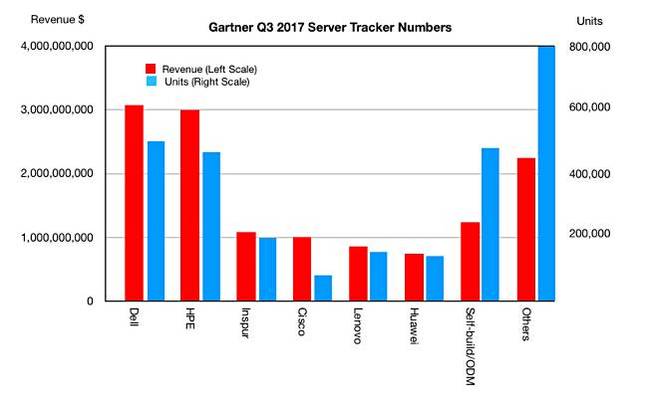 It appears that Dell and HPE are also charging a premium per server compared to the other suppliers, but Cisco's premium is way higher. We see this if we calculate the average system price/server using Gartner's numbers above: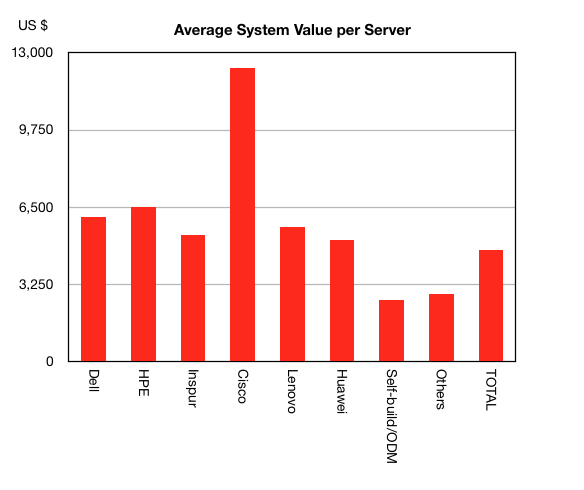 Cisco is charging twice as much as Dell and HPE per its UCS* server. No wonder Dell likes shipping VxBlocks containing UCS servers; the margin per server must be great.
The self-build/ODM prices are less than a quarter of Cisco's, and under half the Dell and HPE server ASPs. Is it any surprise that Facebook, Amazon and the other hyperscalers build their own servers using ODMs given these numbers?
As hyperscale and cloud data centres account for more and more servers then HP's server units, and potentially HPE's server revenues, will decline. It recently exited this sector of the server market, but Dell is still committed.
We suspect Dell might look to emulate Inspur's JDM model because the Chinese server big cheese looks set to become its main competitor in the general server market as well as the hyperscale one, particularly if HPE falters.®
Bootnote
*Perhaps UCS should stand for Unbelievably Costly Server.