Oracle: We've stuffed automation in 'pretty much' all our services
Firm in mega cloud tech push
---
Oracle has announced plans to roll out its self-described autonomous technology to all of its Platform-as-a-Service products.
The company launched its self-driving database, available in the latest version, 18c, at the OpenWorld conference last year.
At the time, execs promised customers "a freedom from drudgery", as the database will use machine learning to automatically provision, patch, tune and backup – assuming that you have Oracle public cloud or Cloud at Customer.
Big Red hopes it will ward off competition from cloudier upstarts like AWS because it's also promising 99.995 per cent availability and that it will beat Amazon's price by 50 per cent.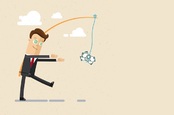 You gotta have goals: Oracle ties Larry, Safra and Mark's equity to cloud
READ MORE
In its latest bid to persuade customers to cough up for its cloud – on which it is hooking its future success, not to mention exec earnings – Oracle has announced plans to extend its autonomous offering beyond the database and into all of its PaaS services.
The autonomous PaaS services – which will be available in the second half of fiscal 2018 – include management, analytics, application development and integration.
Examples of automation Oracle said it will offer are: automated data lake and data prep pipeline creation for data integration; automated data discovery and preparation, with automated analysis for key findings; and automation of identification and remediation of security issues in a developer's code during application development.
On a call with journalists, Amit Zavery, executive vice president of product development at Oracle Cloud Platform, said that the PaaS rollout extends the firm's autonomous offering "out to pretty much every service we offer".
Oracle's aim is to encourage customers to have an end-to-end self-driving system, which it said would cut development costs and deliver better value.
And its latest announcement pointed to recent high-profile security breaches and outages as a way of pushing the idea that, if enterprise customers want greater confidence, they should allow machines to automate out human error.
"The future of tomorrow's successful enterprise IT organization is in full end-to-end automation," said Zavery. "We are weaving autonomous capabilities into the fabric of our cloud to help customers safeguard their systems, drive innovation, and deliver the ultimate competitive advantage."
However, the biz has repeatedly emphasised that increased automation will not mean the end of people's jobs – instead saying it will simply cut out the monotonous yet time consuming day-to-day tasks.
"This allows administrators to free up their time... do things they were not able to do before," said Zavery. "They will have to learn some new things beyond what they were doing before."
Zavery added that Oracle would still be able to connect to other cloud services, and could integrate into services and data that was outside the Oracle cloud – but acknowledged that these would be beyond the biz's self-driving reach.
"We will continue to allow that integration and allow data to flow across the board," he said. "And we will manage anything that touches us in a much more automated way." ®