This article is more than 1 year old
Lenovo says take this code and stick it where the SAN doesn't shine
Need faster storage? Box slinger claims updated software boosts SMB kit performance
Lenovo has refreshed its line of storage-area-network boxes for small and medium businesses with improved software.
This faster firmware code has pushed controller IOPS higher, mades disk rebuilds screaming fast, and added distributed RAID, it is claimed. There are three products in this SAN family – the DS2200, the DS4200 and the DS6200 – and they come in 2U enclosures with either 12 3.5-inch or 24 2.5-inch drive bays. Here are Lenovo's stats for this line of machines with the latest updates:
|   | Max Capacity | Max Drives | IOPS |
| --- | --- | --- | --- |
| DS2200 | 576TB | 48 x 3.5"/96 x 2.5" | 100,000 |
| DS4200 | 3.17PB | 276 x 3.5"/240 x 2.5" | 325,000 |
| DS6200 | 3.17PB | 276 x 3.5"/240 x 2.5" | 600,000 |
The maximum capacity is calculated using 12TB disk drives.
The D2200 2U base unit can add up to three expansion units – what Lenovo calls EBODs, or extended bunch of disks. These expansion units are also 2U-12 or 2U-24 enclosures. That means the maximum number of drives is 48 3.5-inch devices, or 96 2.5-inch jobbies.
Stuart McCrea, Lenovo's director of storage product planning and product management, said it is possible to load the 2.5-inch drives bays with 15TB SSDs and thus have a 1.44PB maximum capacity. With the DS2200 "admittedly there are few use cases for that amount of flash on this controller."
The DS4200 and DS6200 can also have up to nine 2U EBODs, or hook up with up to three D3284 boxes, which are 5U expansion units that can each hold 84 x 3.5-inch drives.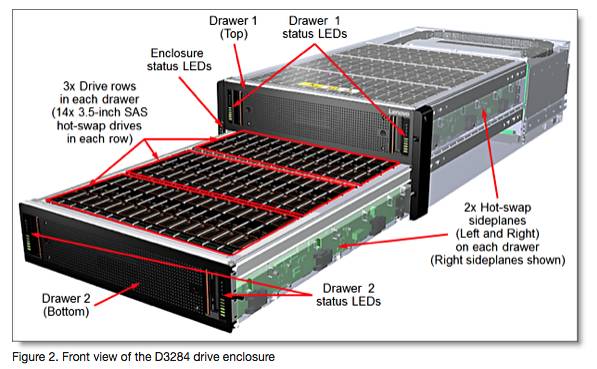 Lenovo's illustration of the fat D3284 expansion unit
The code update has provided a 50 per cent performance increase over the previous generation, ten-times faster RAID rebuild times, a 60 per cent storage density improvement, and 4:1 replication (using iSCSI or Fibre Channel), Lenovo said.
Rebuilds are a smidge faster with all-flash drives, or 50 per cent faster with hybrid flash-disk configurations, and 11 times faster with all-disk units. Lenovo said an all-flash DS6200 is around 50 to 55 per cent faster than four competing vendor's all-flash arrays albeit without naming names.
There is, we're told, an upgrade path to go from the starter model to the top-end kit. The pricing is said to be affordable, and the new code and EBODs will be available some time in March. ®