This article is more than 1 year old
Ex-Skyera chaps' Tachyum startup grabs cloud chip cash
Claims stealthy tech will cut costs and power consumption
Silicon design startup Tachyum, founded by ex-Skyera top brass after they sold out to Western Digital, has bagged funding to continue developing cloudy chips.
The cash comes from IPM Growth, a division of InfraPartners Management LLP, but the amount handed over was unconfirmed.
Adrian Vycital, managing partner of IPM, who joins Tachyum's board of directors, talked up the firm's market.
"One of the obstacles in developing ambitious projects in a number of fields is the lack of access to high-performance processing chips needed to tackle the ever-increasing number and complexity of algorithms demanded of today's computing problems, as well as the high energy consumption of the rapidly expanding data center market."
He claimed that from its base in Europe, "we see that the EU is currently losing the competitiveness of having access to our own proprietary technology...and part of our investment thesis for Tachyum is aimed at addressing that demand and helping to drive the R&D projects of the future forward, faster."
Tachyum said it expects the cloud chip to cut do nothing but good things for data centre customes' total cost of ownership, power consumption and rack space. It would say that though wouldn't it.
CEO Rado Danilak presented at the 2017 Flash Memory Summit on "Low-Cost Flash-Only Data Centres Going Mainstream" (PDF).
He said Moores Law running out means generic x86/Atom and Arm CPU performance has plateaued. The industy needs new technology to break out. The slides below gives a flavour of his pitch.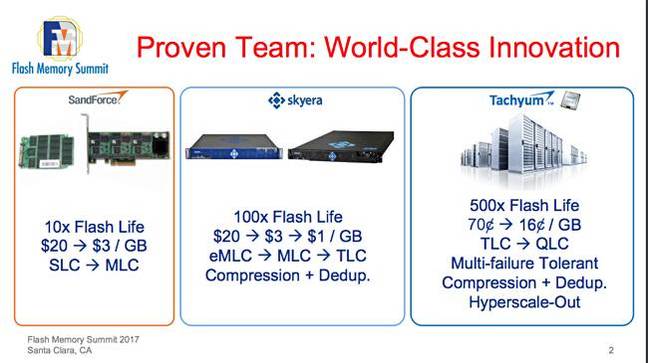 The Cloud Chip: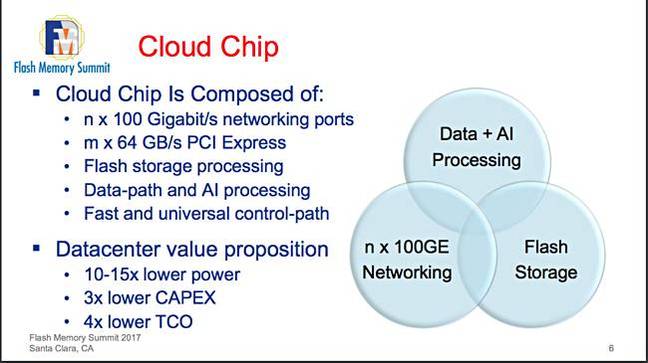 New chip technology: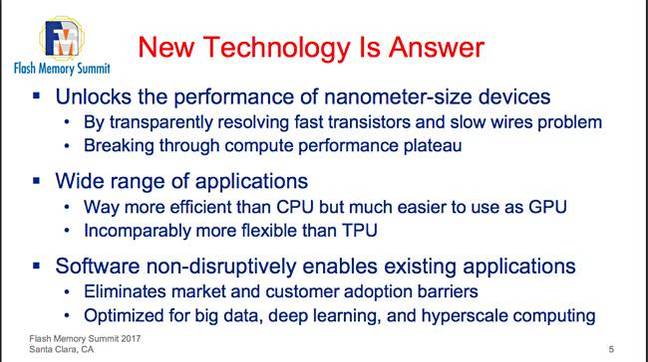 Low costs: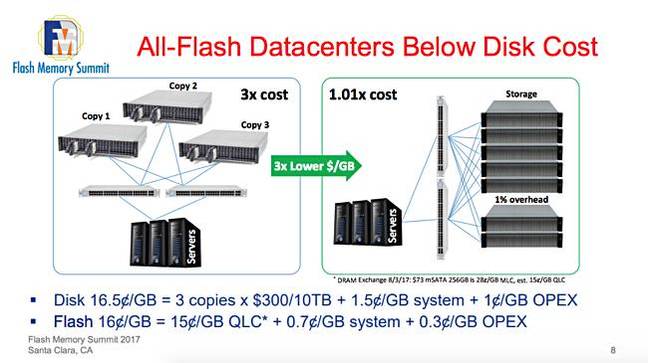 We think we see elements of a compute-on-flash-drive devices here, bringing compute and storage together, and assiting a server's x86 processor – maybe.
Tachyum is setting its sights high, so high, and the risk is that, like Symbolic IO, it will find the task beyond its grasp. ®