This article is more than 1 year old
South China waters are red, Brit warships are blue, HMS Sutherland's sailing there
And Queen Lizzie will too
A British warship has set sail for the South China Sea, paving the way for aircraft carrier HMS Queen Elizabeth to do the same thing in three years' time.
HMS Sutherland, a Type 23 frigate, will sail through the disputed region on her way home from Australia, as much to fly the flag in foreign climes as to carry out a dry run ahead of the nation's flagship doing the same thing in 2021.
The South China Sea is one of the world's naval choke points. Very high values of trade (the total value was estimated by the Daily Telegraph as £3.8tn) either originates in or passes through the sea. The region is under dispute chiefly because of China, which is trying to extend its territorial limits (and thus the area it can directly control) by building artificial islands to embiggen its borders.
Sutherland will be carrying out a freedom of navigation exercise, which is where a warship sails through a disputed bit of sea to send the message "you can't stop us doing this". The idea is to reinforce the notion that international waters, where anyone has right of free passage, can't be unilaterally claimed by one country.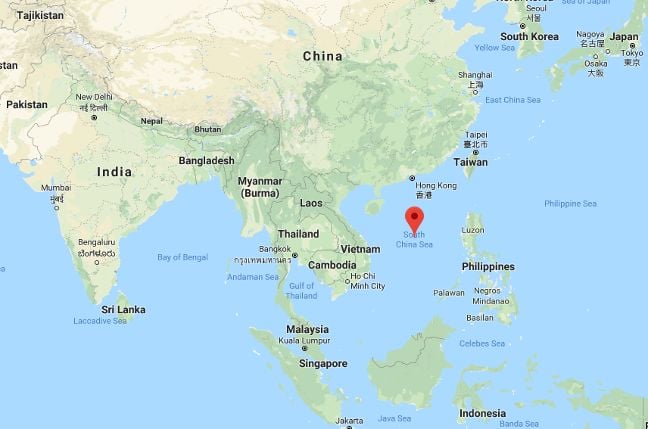 The South China Sea, as marked on Google Maps
"She'll be sailing through the South China Sea (on the way home) and making it clear our navy has a right to do that," Defence Secretary Gavin Williamson told The Australian newspaper.
The US Navy has been carrying out its own freedom of navigation exercises (FONOPs) in recent years as a direct challenge to China, including aircraft carrier battle groups sailing through the region.
What is less well known is that the UK has signed up to do that exact thing on new aircraft carrier HMS Queen Elizabeth's first operational deployment in 2021. The ship, which will have finished her sea trials and flight trials, will be sent to the region along with a combined UK-US Marine Corps air wing of F-35B supersonic stealth fighter jets. It seems likely that the air wing will consist of 24 jets: two squadrons of 12, one each from the UK and the USMC.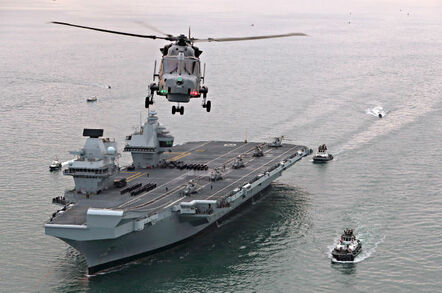 New British aircraft carrier HMS Queen Elizabeth seen approaching Portsmouth for the first time in August 2017. Crown copyright
It seems plausible that this is effectively a thankyou to the Americans for keeping British carrier operating skills alive in the ten years (as it will be by 2021) since Britain last had an operational fast jet carrier. The skills to operate these ships, ranging from flight deck operations to maintenance to fast turnarounds, are highly perishable unless practised regularly. British "Seedcorn" personnel have been embedded with the US Navy and US Marines to learn and maintain these crucial skills. The return on investment for America seems to be the chance to get an allied aircraft carrier covering for one of its own regular deployments.
Naturally, China does not appreciate FONOPs in the South China Sea. Geng Shuang, a spokesman for the nation's foreign ministry, told The Telegraph, in response to news of Sutherland's mission: "Currently the South China Sea is calm and tranquil. We hope other countries won't begin stirring up trouble."
Meanwhile, Chinese state propaganda publication the Global Times demanded that the RN should "behave modestly" while transiting the South China Sea - and said that the MoD is "trying to validate its existence and grab attention", as translated by Channel News Asia. ®