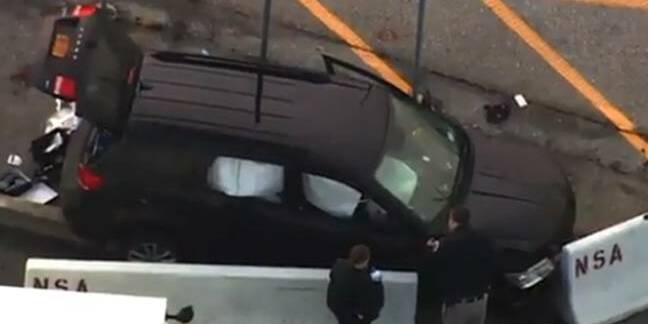 Three people are in hospital after a car rammed a barrier at the NSA headquarters in Fort Meade, Maryland, today at around 0655 ET (0355 PT, 1155 UTC).
A trio of blokes tried to drive onto the US intelligence agency's campus in a rented SUV, and were intercepted by spy cops, according to the FBI. The vehicle's driver was hurt, and is now in hospital, along with an NSA police officer and a bystander who was wounded with "non-life-threatening injuries." The two other fellas in the car are now in custody.
"We have no indication think that this is anything more than an isolated incident," said FBI special agent Gordon Johnson in an on-the-spot press conference you can see below. "We have no reason to believe that there's any nexus at all to terrorism at this point." In other words, the car's occupants were probably white. Lone wolves, are we right?
Despite bullet holes clearly visible in the SUV's windscreen, the Feds said none of today's injuries were due to gunfire as far as the bureau knew. The FBI said that, preliminarily, it looks as though the gunfire came from outside the vehicle, and refused to comment on whether or not firearms were found in the car.
Basically, it appears the NSA cops opened fire on the SUV as it tried to crash through Gate One of the Maryland campus.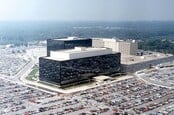 Cross-dressing blokes storm NSA HQ: One shot dead, one hurt
READ MORE
US President Donald Trump has been briefed on the situation, and an investigation is ongoing. Vice President Mike Pence is praying to God. More details will be released as they become available – on the probe, that is, not God's response.
"NSA Police and local law enforcement are addressing an incident that took place this morning at one of NSA's secure vehicle entry gates," America's digital spy agency said in a statement. "The situation is under control and there is no ongoing security or safety threat."
Based on past experience, the suspects got off lightly. In 2015, two men dressed as women tried to ram their way into the agency's snooping nerve center in a stolen car. One was shot dead, and the other seriously hurt in the attempt. ®
Sponsored: Webcast: Discover and secure all of your attack surface