This article is more than 1 year old
Roses are red, Ajit Pai is tickled. Broadband from SpaceX gets him out of a pickle
Musketeers to launch first internet satellites this weekend
SpaceX's plans to become a global ISP took a big step forward after Ajit Pai – the boss of America's comms watchdog, the FCC – gave his blessing for Elon Musk's biz to pop broadband-beaming satellites into orbit.
The rocketry upstart wants to build a network of low-Earth orbit birds named Starlink that will provide high-speed internet connectivity around the world using radio links to ground transceivers.
The US spacefaring shop asked for permission to launch up to 12,000 satellites to form this internet-sharing constellation. On Wednesday this week, Pai, and his two Republican FCC commissioners that do his bidding, indicated the plan is a goer.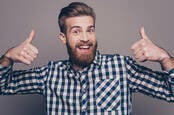 US broadband is scarce, slow and expensive. 'Great!' says the FCC
READ MORE
"Following careful review of this application by our International Bureau's excellent satellite engineering experts, I have asked my colleagues to join me in supporting this application and moving to unleash the power of satellite constellations to provide high-speed Internet to rural Americans," Pai said in a statement.
"If adopted, it would be the first approval given to an American-based company to provide broadband services using a new generation of low-Earth orbit satellite technologies."
The Starlink network may get Pai out of a bit of a spot. Broadband deployment sucks in America compared to the rest of the advanced industrialized world. The FCC boss hoped to fudge that by tweaking the definition of broadband, a move which would have painted US ISPs in a more positive light. However, that caper was dropped after a storm of protest.
At the same time, Pai's lord and master President Trump has instructed him to find a way to get better internet to America's rural communities. The major telcos aren't too interested due to the big upfront costs and low revenue opportunities.
Having a satellite system that provides fast internet connectivity over radio links would solve both problems.
Latency
A working SpaceX satellite internet system is far from certain. In the past, satellite internet has been synonymous with OKish download speeds, pathetic upload rates, and latency so high it would make most netizens itch with frustration.
SpaceX thinks it can do better. It wants a big cluster of low-cost satellites orbiting low down to cut latency, and with advanced electronics to increase speeds. The plans have their skeptics, although ten years ago the idea of landing reusable rockets vertically in tandem would have sounded ridiculous, so who really knows?
To test its technology, SpaceX will loft a couple of experimental internet satellites on Saturday – weather willing. A Falcon 9 is on the pad at Vandenberg Air Force Base in California, USA. Its primary payload is a radar satellite for Spanish biz Hisdesat. Tagging along for the ride are two of SpaceX's own creations.
The Microsat-2a and -2b broadband spacecraft will, after lift off, maneuver to an altitude of 1,125km (699 miles in freedom units), and attempt to talk to six fixed ground stations in California, Texas, and Washington state and three transportable ground stations that will be parked near the fixed receiving stations.
During these tests, the two satellites are expected to manage 1.4Gbps from space to Earth using frequencies around 11GHz, up to 720Mbps from Earth to space around the 13GHz mark, and 1.4Gbps from Earth to space at around 14GHz. All the frequencies and related nerdy info can be found in the given link. ®