This article is more than 1 year old
NetApp's third quarter revenues charge forward
Tax charge kills GAAP net income but underlying numbers are strongly positive
George Kurian's NetApp reported strong third quarter numbers all-flash arrays leading the way to set NetApp up for its first full year annual growth since 2015.
Revenue of $1.52bn was eight per cent more than the $1.4bn recorded a year ago. GAAP net income was a loss of $506mn, caused by the recent US tax law changes, with NetApp taking a one-time charge of $856mn. Non-GAAP Net income of $273mn paints a clearer profit picture, as it is an 18.2 per cent increase on last year's numbers.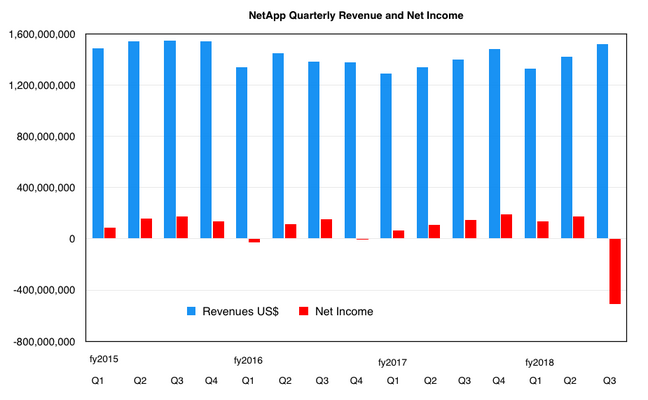 Another good indication of NetApp's financial health was free cash flow at 25 per cent of revenue and increased 104 per cent year-over-year.
CEO George Kurian said NetApp experienced "a solid demand environment and customer momentum, landing wins and footprint expansions with leading organisations in all geographies."
Strategic product revenues were 70 per cent of the total revenues and increased 20 per cent year-on-year. The SolidFire-based hyper-converged product is off to a good start, which Kurian said excites him.
NetApp's all-flash array run rate is now $2bn/year and that is an increase of almost 50 per cent year-on-year.
Kurian said NetApp remained focussed on where customers were going and had clearly differentiated offers to market. The company believes the current solid demand environment will continue through the next quarter and beyond.
Expectations for the fourth quarter are for revenues between $1.525bn and $1.675bn. At the mid-point that would mean full fiscal 2018 year revenues of $5.87bn. Such a full year revenue number would be NetApp's highest since fiscal 2015's $6.12bn and signal a solid return to growth.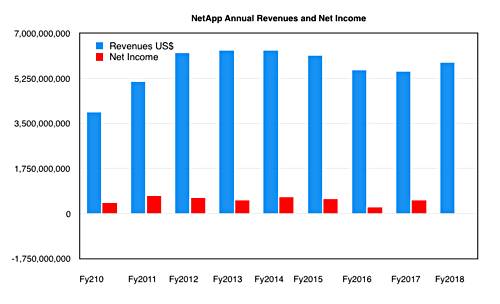 NetApp annual revenues and GAAP net income. The FY2018 revenue number is estimated.
NetApp will need GAAP net income of $195mn to avoid a full year loss but that seems a realistic goal. Indeed, a full-year profit seems eminently possible. ®