Zuckerborg, Microsoft, Amazon letting the side down for green energy among hyperscalers
But they're trying, bless 'em, says IHS Markit report
Data centre operators are going green because renewable energy costs less, receives tax subsidies and customers like the idea, according to a report by analysts at IHS Markit.
The research notes that Apple has been using fully renewable energy in its data centres since 2013. Google reached the 100 per cent point last year, having been at 50 per cent in 2016.
Facebook is now at 50 per cent, moving up from 25 per cent in 2015, as are Microsoft and Amazon, who were at 47 per cent and 40 per cent respectively in 2016. IHS Markit says that, as of mid-2017, Amazon had six solar farms and four wind farms, delivering a combined 2.6 million MWh to their data centres' grid annually.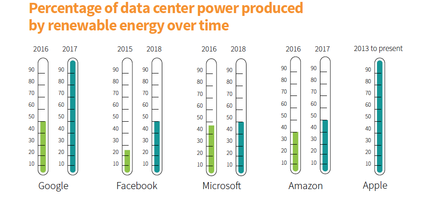 Source: IHS Markit
Powering a data centre with renewable on-site energy sources is possible, although likely hindered by difficulties in geographically remote areas.
Supermicro shows how smaller-scale data centre operators can go partly renewable with its San Jose Green Computing Park and 3MW fuel cell technology from Bloom Energy.
IHS Markit says of such fuel cells: "They are highly efficient and often clean to run. On the downside, they are not widely recognised as a renewable energy and tend to be costly."
The analysts say on-site energy generation is cleaner in principle than having it delivered by a utility company.

Ranking of renewable energy sources by IHS Markit in its eBook freeby
On-site geothermal and hydroelectric power generation are said to be difficult and expensive, quelle surprise, whereas solar and wind power are more feasible, though with their own constraints (the weather).
Analyst Maggie Shillington said: "The methods that are most desirable are solar and wind. This is because of (1) comparatively easy implementation of both and (2) the energy production (3) the lower physical barriers to implementing them.
"Looking towards the future, I think we should see more adoption of renewable energy for data centres. Especially as the largest cloud data centre operators, what we call hyperscalers, expand their data centre footprints and continue to have internal benchmarks for sustainability.
"The biggest excitement for the data centre infrastructure market is figuring out what new products for storing and reducing energy consumption will be developed and deployed."
The IHS Markit report, Hyperscale data center owners are driving growth of renewable energy in data centers, is available to paying subscribers. ®