This article is more than 1 year old
Say HCI is an enhanced server. If you don't already sell 'em, it could be game over, man
Where enterprise servers go, hyperconverged systems follow
Analysis If hyperconverged systems are basically enhanced servers then HCI vendors with no server hardware or channel partnerships for their software are doomed.
And HCI vendors with low server sales will not be successful in the HCI market.
Now let's look at Cisco, HPE and NetApp through this lens.
Cisco UCS servers and HyperFlex hyperconverged infrastructure enjoyed double-digit growth in the company's latest quarterly results, so said CEO Chuck Robbins in its earnings call.
He was asked about the data centre segment's growth, and replied: "Yes, we had a good couple of quarters where the team has really focused on next-generation innovation, lots of partnerships, integrated solutions with analytics, and then working on some of the new capabilities around some of the Kubernetes stuff that was announced and then HyperFlex is obviously still – it's not a significant portion of that business, but it's growing."
Robbins mentioned there were now 2,400 Cisco HCI customers.
The takeaway here is that "HyperFlex is... not a significant portion of that business," the data centre business, implying it's lagging behind UCS server sales.
Gartner's server tracker for the third 2017 quarter showed Cisco had a minuscule proportion of server unit shipments: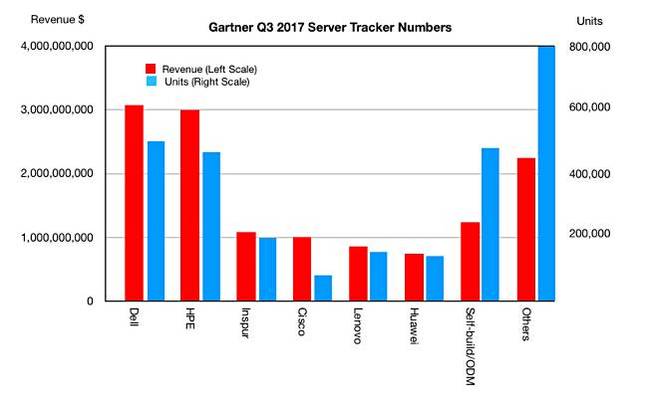 Cisco's double-digit server and HCI growth could be anything between 10 and 99 per cent, of course.
IDC numbers showed the HCI market grew revenues some 68 per cent year-on-year in the third 2017 quarter. This rising tide is lifting all boats but not necessarily equally.
NetApp said its SolidFire-based HCI product was off to a good start in its first full quarter of sales, while not revealing any numbers about it.
Are HCI products enhanced servers?
Suppose we assert that HCI products are now basically enhanced servers, and a hardware vendor's HCI sales will follow its server sales. That would help explain Dell's dominance. A software HCI vendor's sales would depend on its ability to partner with a hardware vendor and its channel, which explains Nutanix's success.
A hardware HCI vendor with no server product line sales would be selling its HCI systems against its customers' existing server sales procurement suppliers and have a high bar to get over.
This is similar to the situation of NetApp, with its SolidFire HCI product.
Dual supplier domination
Nutanix and Dell control 84.25 per cent of the HCI Market, according to IDC numbers. Is it game over for everybody else?
The pie chart shows how the HCI market has (hyper)converged on just these two suppliers: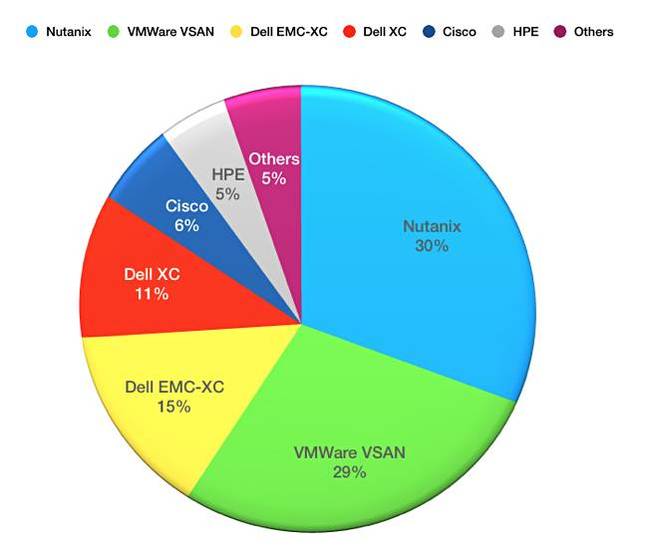 [The 101 per cent total is due to spreadsheet rounding errors.]
HPE has more than 6,000 SimpliVity customers, which puts Cisco's 2,400 HyperFlex ones in context.
The total HCI market was worth $1.135bn in the third 2017 quarter, with Cisco's revenues being $65.7m and HPE's $54m. These are tiny numbers, and NetApp's HCI number in the fourth quarter will be even worse as it is starting from zero.
We could suppose HPE has a lot of room in its installed base to grow its HCI sales because it is a top-two server supplier. NetApp has no server market presence and so will not be able to cross-sell its HCI gear with its servers, which is what both Cisco and HPE are able to do.
A small supplier's double-digit growth can still lead to peanuts – meaning Cisco – while impregnable dominating suppliers control the market, as EMC did and Dell now does in a different market with Data Domain.
For NetApp it could be a case of game over in the HCI market before it has even begun. ®