Hands up who HASN'T sued Intel over Spectre, Meltdown chip flaws
Chipzilla says class-action lawsuit tally stands at 32
---
Intel says it is facing 32 separate class-action lawsuits following the revelations it shipped millions of processors with security design flaws dubbed Meltdown and Spectre.
The figure was slipped into its annual 10-K financial filing, submitted earlier this week to the US Securities and Exchange Commission (SEC).
Speaking to the risks Intel faced as a company, the form outlined the bevy of legal complaints that have arisen following reports the bugs can be exploited by malware to extract passwords and other secrets from a computer's memory.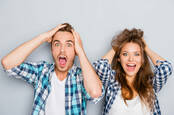 Meltdown, Spectre: The password theft bugs at the heart of Intel CPUs
READ MORE
Shortly after the bugs were disclosed, talk began of filing lawsuits on the behalf of both customers who purchased the vulnerable chips and investors who noted that Intel execs including CEO Brian Krzanich sold off shares around the time Intel began spreading word of the flaws.
Now, Intel says, the lawsuits number more than two dozen.
"As of February 15, 2018, 30 customer class action lawsuits and two securities class action lawsuits have been filed. The customer class action plaintiffs, who purport to represent various classes of end users of our products, generally claim to have been harmed by Intel's actions and/or omissions in connection with the security vulnerabilities and assert a variety of common law and statutory claims seeking monetary damages and equitable relief," Intel writes on the form.
"The securities class action plaintiffs, who purport to represent classes of acquirers of Intel stock between July 27, 2017 and January 4, 2018, generally allege that Intel and certain officers violated securities laws by making statements about Intel's products and internal controls that were revealed to be false or misleading by the disclosure of the security vulnerabilities."
If Intel ends up having to settle the complaints, it would add to what is already expected to be a substantial cost incurred in the clean-up effort from the two flaws.
In addition to the class action suits, Intel says it also faces a trio of individual complaints from shareholders that were filed in California Superior Court.
"The complaints allege that the defendants breached their duties to Intel in connection with the disclosure of the security vulnerabilities and the failure to take action in relation to alleged insider trading."
Intel goes on to say that it disputes the claims, and plans to defend itself against the charges in court. ®