A bloke is suing Verizon Wireless in the US because, he claims, personal pictures from his Verizon phone, including intimate snaps of his fiancée, turned up on the phone of another subscriber – who happened to know her.
"On February 8, 2018, the plaintiff discovered for the first time that Verizon's advertisements about the security quality of its devices and services was false," declared a lawsuit, filed on Wednesday in Portland, Oregon, on behalf of Jeff Smith.
"Despite assurances from Verizon that his personal photos would be protected on its secure servers and devices, Verizon negligently breached plaintiff's privacy by exposing his personal photos to at least one other customer without his permission."
The pictures included family snapshots and "photos of plaintiff's fiancée topless, and photos of plaintiff's fiancée's vagina," the complaint alleged.
In a phone interview with The Register, Smith's attorney Michael Fuller explained that Smith became aware of the unauthorized photo sharing because the recipient of the images happened to be a man who used to work with Smith's fiancée.
Upon obtaining a new Verizon Wireless phone, the bloke recognized his former coworker, and contacted her to alert her to the photo leak, according to Fuller.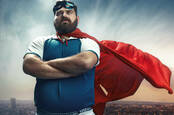 Bloke sues Microsoft: Give me $600m – or my copy of Windows 7 back
READ MORE
Smith and his fiancée's former colleague went to the Verizon store in Molalla, Oregon, where the phone had been acquired to complain and, as the court filing puts it, were told "nothing could be done unless plaintiff hired a 'big shot lawyer' to try to take on Verizon."
Fuller said Smith, of Canby, Oregon, was not pleased. "He's a logger," he explained. "He'd have rather lost an arm or leg than have these intimate photos shared with the world."
Fuller said Verizon hasn't explained how the highly private images escaped onto the other guy's phone, but he speculated that something went wrong with Verizon Cloud, the US mobile giant's online storage service for photos and files.
Also, we're reminded of that time back in 2012 when Verizon store employees apparently helped a woman transfer her data to a new phone, and discreetly copied some of her nude photos for their own use.
Smith's complaint, alleging unlawful trade practices and negligent data handling, asks the jury – assuming the case isn't settled before trial – to award damages of up to $4m. Verizon Wireless did not immediately respond to a request for comment. ®