The knives are out for MER-B, better known as the Opportunity rover, at NASA beancounter central. The beloved rover has just passed the 5,000 sol mark on Mars and is approaching the 15th anniversary of its launch (thankfully without the desolate rendition of "Happy Birthday" played by its plutonium-powered successor, Curiosity).
Hidden within the NASA FY2019 budget, between the proposal to crash the International Space Station into the ocean in 2025 and the gutting of much of NASA's Earth science and education outreach efforts, is another attempt to kill off the long-lived Mars rover. The previous cuts were reversed by Congress, but this time the one-armed rock-botherer may not be so lucky.
Having survived eight Martian winters and outlived its companion rover, Spirit, by eight years, it seems that budgetary constraints will be what finally does for the machine which, to be fair, was only ever supposed to last for 90 days. NASA feels that the $12m annual operating cost of running Opportunity could be better spent elsewhere.
Over the last 14 years and 45km (28 miles), the robot scientist has found evidence for running water in the past on Mars as part of the geological processes that have shaped the surface of the planet. It is currently trundling along the west rim of Endeavour crater as it investigates the most ancient terrain explored to date.
Thanks to Martian winds regularly sweeping Opportunity's solar panels, the robot continues to be able to run many of its instruments. In the last few weeks, the robot's arm has used its Alpha Particle X-Ray Spectrometer to study a new target on the surface while the Panoramic Camera has added to the near 230,000 images sent back to Earth.
Boffins plan to apply an update to the flight control software later this year, a task complicated by Opportunity's failing memory.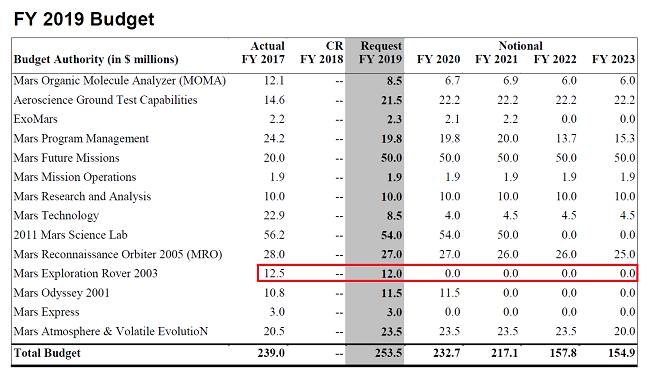 The axeman cometh
Whether that will be the last such patch remains to be seen. In the meantime, it might perhaps be better to see the potential penny-pinching cut as a last ditch attempt to save humanity from a seemingly immortal robot rather than a possible end of the road for an impressive bit of engineering. ®