Storage snow big deal? Products vendors hope will sleigh, pole position startups and more
Ice to meet you, storage fans. This was your week
---
In this week's roundup we hitch a brief ride on a sledge to the South Pole, and watch the movements in frozen flash, hot HCI, supercooled software and more.
Acronis
Acronis has added a technology partnership with the Williams Martini Racing Formula One team, alongside its sponsorship of the Toro Rosso outfit.
The Williams team gets Acronis backup, disaster recovery, software-defined storage, and file sync and share. Acronis gets – well, it's hard to say as Acronis doesn't say what it's going to get – but we figure it'll get its logo on the Williams car's bonnet which can ferry customers to races and the Williams' HQ.
The Acronis-Toro Rosso deal dates from 2016 and will now take a back seat.
It has set up an Acronis Motorsport Portal to cover technology in motorsports. Alain Prost, a four-time Formula One World Champion and Renault e.dams team co-owner, will contribute to the portal as an advisor and guest editor.
The Renault e.dams team, active in Formula E racing, also has an Acronis sponsorship deal. Dell Technologies signed to sponsor the McLaren racing team a few days ago.
Cloudian's momentum
It's a bit slow compared to other companies starting 2018 but Cloudian has come out with its version of the 2017-was-great-release.
Cloudian announced "record growth", for a third consecutive year, in 2017. It claimed bookings from repeat customers grew fivefold, its customer base doubled and revenues went up in every geographic segment across the world.
More than 200 customers currently use Cloudian's object storage technology to manage their data, it claimed. It has expanded accordingly with three new teams across the EMEA region in France, Germany and Italy.
Cohesity
Cohesity said customer Manhattan Associates, which started with backup capabilities, is now adding file and object storage to read and write to the same data volume, eliminating unnecessary data copies and hardware silos. Sounds like that old land-and-expand playbook.
Mohit Aron's company mentioned a Gartner Magic Quadrant for Distributed File Systems and Object Storage report in October 17, 2017, which said: "By 2021, more than 80 per cent of enterprise data will be stored in scale-out storage systems in enterprise and cloud data centres, up from 30 per cent today." Cohesity, of course, has scale-out storage.
Commvault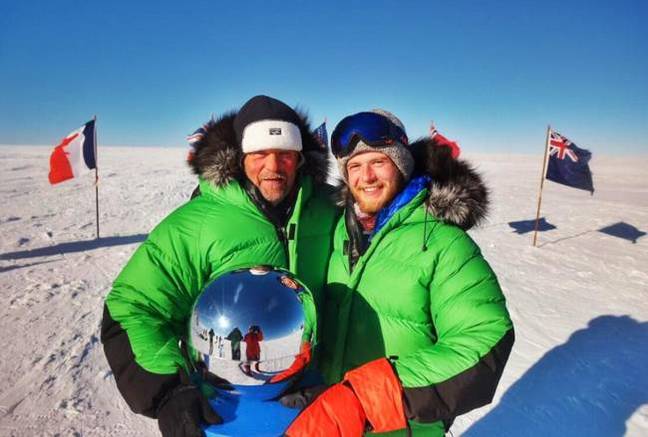 Barney and Robert Swann at the South Pole
It's a hard life but someone has to do it. Commvault sponsored the South Pole Energy Challenge and sent CMO Chris Powell out to the South Pole to play a role in the Robert And Barney Swann sledge-pulling trek. Here's a picture of Chris Powell at the pole: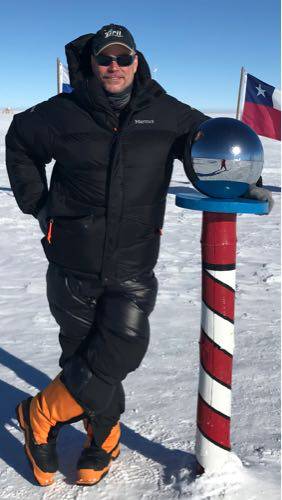 We expect he'll stick that in his CV to liven things up.
Gen-Z
The Gen-Z Consortium has released its Core Specification 1.0 to enable silicon providers and IP developers to begin the development of products enabling Gen-Z memory-centric products.
Gen-Z is an open systems interconnect designed to provide memory semantic access to data and devices via direct-attached, switched or fabric topologies.
Komprise
File access virtualiser and data manager Komprise has said that v2.7 of its Komprise Intelligent Data Management product is generally available. It offers easy and affordable NAS migration - at no extra cost.
The Komprisers said NAS migrations are often a dreaded and laborious part of the storage management lifecycle. Free tools are riddled with risks, time/cost overruns and are extremely labour-intensive and prone to errors, it adds. It also claims traditional migration tools are expensive point products that are complex and do not provide ongoing value and result in sunk costs. It is pitching its Komprise Identity Management product as the solution, saying users can simply set up NAS migration tasks and the software automates and reports on the progress.
NGD Systems
This compute-on-flash-drive startup has had a funding B-round, gaining $12.4m from new investor Partech Ventures with participation from Orange Digital Ventures. Existing investors Alcor Micro and Benhamou Global Ventures (BGV) also participated in the round. In addition, the company has received a $4m credit facility from Silicon Valley Bank (SVB).
Total capital investment to date to is $26m.
NGD's president and CEO Nader Salessi talked of the "explosive opportunity" in front of NGD. The cash will be directed towards the acceleration of NGD's go-to-market activities, continued development of its technology, and migration of its 14nm SSD controller to mass production. There's marketing talk of gathering and processing data at the edge of the cloud with intelligent storage devices.
Pivot3
HCI vendor Pivot3 has claimed it experienced accelerated growth in 2017, including significant traction among multi-workload environments in data centres and smart city and safe city initiatives. Pivot3's sales increased by more than 65 per cent from the first half to the second half of 2017, it said.
CEO Ron Nash said: "We saw incredible sales acceleration this past quarter, with Pivot3 emerging as the only private technology company capable of taking on the large, public IT companies with a platform that can support the most demanding applications.
"We built our HCI platform for the future, with deeply-embedded intelligence and simplicity for the evolving datacenter -- a capability that is resonating with major enterprises looking to manage multiple applications on one HCI platform, as well as governments embarking on large-scale smart city and safe city initiatives. The message is clear: when customers have a demanding IT initiative, they turn to Pivot3."
Right: that's it – game over, Nutanix and Dell-EMC-VMware...
Scality
Object storage supplier Scality says its RING product scored second in all product scores across every use case in the Gartner Critical Capabilities for Object Storage report that was released on 25 January 2018.
It came second to IBM's on-premises Cloud Object Storage (Cleversafe as was) in an overall use-case scenario.
Snowflake
Public cloud-based data warehouser Snowflake has a partnership with cloud big data-as-a-service company Qubole to enable:
Using Apache Spark in Qubole with data stored in Snowflake,
Data teams to build, train and put in production powerful ML and AI models in Spark using information stored in Snowflake,
Enabling data engineers to use Qubole to read and write data in Snowflake for advanced data preparation such as data wrangling, data augmentation and advanced ETL to refine existing Snowflake data sets.
Qubole COO, Kevin Kennedy said. "The fastest path to success is combining Qubole's cloud-optimised Apache Spark implementation with data stored in Snowflake to get frictionless deployment, lowest TCO, and unlimited scale."
The integration of Snowflake and Qubole is immediately available as a feature enhancement to Qubole Data Service, Enterprise Edition.
Storage Made Easy
SME announced the availability of the Storage Made Easy File Fabric charm through Canonical's Juju charm store.
We're told Canonical's model-driven operations system Juju addresses the complexity of modern software by providing reusable, abstracted operations across hybrid cloud and physical infrastructure. Integration points and operations are encoded in "charms" by vendors and the community of experts familiar with an app. These charms are leveraged by operations teams, configuration as code that evolves along with the software itself.
Charms can use SME's data store unification and governance technology which can be deployed in minutes to the cloud of their choice.
Violin Systems
The slow and steady rejuvenation of the old Violin Memory continues. Its post-bankruptcy instantiation has chosen HARMAN International, a wholly owned subsidiary of Samsung Electronics Co Ltd, to extend research and development efforts for its Flash Storage Platform.
It's working with the HARMAN Connected Services (HCS) division. Violin with HCS will accelerate R&D efforts to provide customers advanced features, functionalities, integrations and readiness, it claimed.
Violin's CEO and President Ebrahim Abbasi said: "With this partnership with HARMAN, we can better leverage our existing [engineering] team by supplementing their efforts with established experts in enterprise infrastructure technologies to quickly and efficiently improve existing and future product lines."
Customers
In-memory software supplier GridGain says London-based real-time sports better FSB Technology (UK) Ltd, which supplies a fully managed service, is using GridGain Enterprise Edition to ensure the real-time performance and scalability of its PostgreSQL-based system in the face of rapid growth and extreme processing spikes. FSB supports more than 500 casino and live dealer games, processes more than 700 bets per second, and transacts over £2 million in bets daily.
People
Databricks has hired Vijay Gill as SVP of engineering. He comes from Salesforce where he was SVP of software engineering. Databricks provides its pUnified Analytics Platform and was founded by the team who created Apache Spark.
Datrium has opened an office in Japan and hired the head of Tintri's Japanese operation to run it.
Scality's EMEA channel director Nigel Houghton has moved to Veeam to be EMEA director of alliances. ®