Who, Me? Welcome to the fifth edition of Who, Me? It's a new Register weekly column in which readers confess to times their skills fell just a little – or a lot – short of what was required to stop things going pear-shaped.
This week, meet "Dom", who back in the 1990s learned the "Clarion" programming language.
Which wasn't much use in his job as a PC salesperson for a white-box outfit, until one day "the owner of the company asked if anyone knew how to program."
Dom put up his hand and the next thing he knew he was a programmer.
"All of a sudden, instead of sitting in a big room with all the other salespeople, I was in my own office and with a rack of shiny equipment." He also had status: Dom's office was the showcase the boss planned to use to woo customers.
"A parade of potential customers passed through my doors and they, myself, and my boss sat together to talk about their hopes, their dreams, and how a Novell network with custom software specifically designed for their business will make everything come true," Dom told Who, Me?
As Dom moved deeper into his new profession, he quickly learned that the most important skill was a rock-solid poker face. "My boss single-handedly invented the meaning of 'VaporWare'. The words that came out of his mouth with such a straight face were amazing and the realization that he had no idea what programming actually entailed became more apparent with every customer who visited."
Dom's boss would do things like promise connectivity between a prospect's PCs and then-prevalent accounting applications, all without knowing how it worked or that he was setting them up to buy massively-expensive synchronous modems to do the job.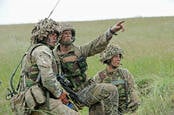 Military techie mangled minicomputer under nose of scary sergeant
READ MORE
Dom just put on his poker face and did his work.
This led to some tricky moments, such as when he was asked to write "a trip management/accounting system for a trucking company." Dom told us he created "a good product in my opinion... good, not great." And also a bit fragile, because one day Clarion deleted a critical payroll index file, leaving Dom to fix it – on pay day "with all the truck drivers in the parking lot waiting for their pay check."
"And also a number of truck drivers' wives waiting to pick up their truck driver husband's checks."
"They were asking if it was fixed yet, when checks would start to print, whether they'd get paid the right amount."
Dom had no satisfying answers but he did have a good poker face, so escaped that incident too.
A couple of years later Dom reckons he perfected his poker face.
"Sometimes when index files were really screwed up, you had to manually delete them before Clarion could rebuild them," he explained. However the command to do so was del *.idx.
"Any good tech or programmer knows the danger of * and del together, so I was super careful."
"I had repeatedly copied the whole application and data files to a test directory and made my changes there ... and of course it was an iterative process so I would delete the contents of the test directory and recopy the original over and over again."
But eventually Dom forgot which directory was which and managed to delete everything in both.
The fix? That now very-well-tuned poker face.
"I calmly walked down the hall to the trucking company's business manager and calmly asked for the week's set of backup tapes," Dom told us. When asked why he needed them, Dom flashed what he told us was "absolutely the best poker face I ever used in my career."
"I need to compare the tax tables to previous versions to see how they deteriorated over the week until finally the indexes were saturated."
Said explanation was accepted without comment and Dom's career sailed on until the point at which he decided to write to Who, me?
Has a non-technical skill helped you avert disasters of your own making? If so, click here to write to Who, me? and we might give you a run on some future Monday.