Big Blue plumps up storage line with filer and fabrics
Spectrum goes all NASty, FlashSystem base box getting NVMe fabric access
---
IBM is adding filer software to its storage offerings, NVMe fabric access to its base all-flash array, and other features across its storage portfolio in a bumper Big Blue storage news day.
There are three aspects to the bundle of news: software-defined storage; data protection and storage hardware; and the FlashSystem 900 array.
Spectrum NAS
Spectrum NAS is the big storage software news - after giving up on the OEM'd NetApp filers some years ago IBM has returned to the filer scene with scale-out software. We understand it is based on Compuverde software and provides a 4-node base scaling up to tens of nodes.
It is intended for file sharing, home directories, and file serving in VMware/Hypere-V environments, using NFS3, 4 and 4.1 protocols as well as SMB.
Erasure coding is used for data integrity. It runs on X86 servers in virtual machines or bare metal and IBM reckoned it is less exensive than dual controller-based filer arrays. We undertstand that it is not as performant or as scalable as the Spectrum Scale parallel access product for HPC-style environments.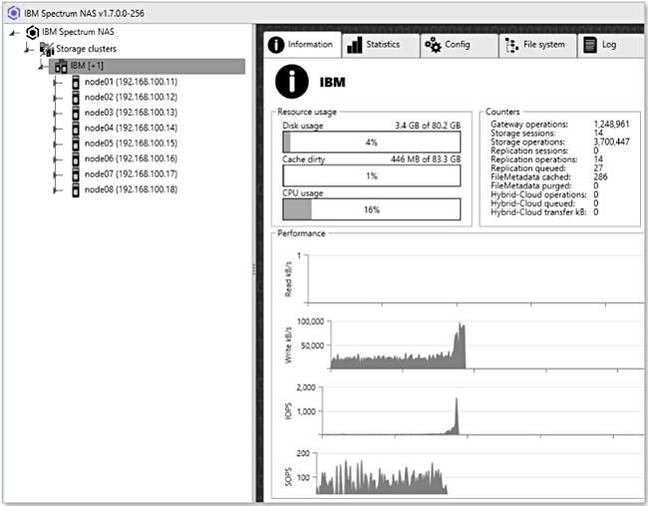 Spectrum NAS screenshot
Here's an IBM slide pitching Spectrum NAS features;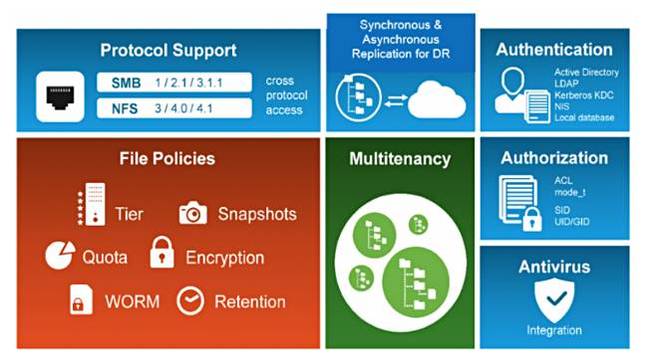 And here's a similar Compuverde slide;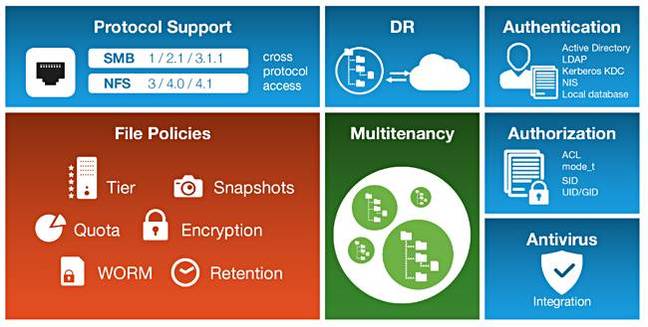 It's Compuverde software, okay! Read more in a Spectrum NAS blog.
NVMe over Fabrics
IBM has added NVMe over Fabrics support to its FlashSystem 900 array using Infiniband. That means accessing servers get a hold of FlashSystem 900 data as if they were accessing a local PCIe-connectred flash drive. We think IBM is the second mainstream storage supplier to do this, and the only active one. Dell EMC did get there first with DSSD but killed the product - it was proprietary tech and customers wanted commodity NVMe technology
Big Blue will also add NVMeoF support to its Spectrum Virtualize (SVC and SW in FlashSystem A9000/SA9000R/Storwize V7000/V5000 arrays) and Spectrum Accelerate (XIV) products in the future.
Data Protection
Spectrum Protect Plus gets ransomware attack detection and GDPR-level auditing.
Its vSnap repository can be replicated to a remote site for business continuity and DR.
The Spectrum Storage Suite gets Spectrum Protect Plus included at no additional charge.
Other bumper bundle bits;
Spectrum Virtualise v8.1.2 has data reduction pool architecture offering support for using compression on all volumes in a system (up to 10,000 per system) and up to 3x better throughput for compressed volumes.
Spectrum Connect provisions, monitors, automates and orchestrates IBM storage in containerised, VMware, and Microsoft PowerShell environments.
Cloud Object Storage gets FIPS PUB 140-2 support and SEC 17a-4(f) and CFTC 1.31(c)-(d) compliance assessment from Cohasset Associates.
IBM's Storage Utility Offering with usage-based pricing enables switching costs from a cap-ex model to op-ex for on-premises Cloud Object Storage.
Hyper-Scale Mobility enables migration from XIV Gen3 systems to all-flash IBM FlashSystem A9000/R without application and workload disruption.
The two standout features are the confirmation of NVME over Fabrics access for the FlashSystem array and the NAS software, which IBM has been lacking for some years. The NAS software fills a hole while the NVMeoF tech puts IBM in a good position. ®
Similar topics
Narrower topics