HP is probably the world's top PC-maker measured by devices shipped, but has nonetheless started to offer and support Apple devices for its customers.
This was not a decision to compete against its own products. Instead it is an extension of another HP product, namely the Device as a Service offering that sees HP procure, supply, deploy and maintain hardware for its customers. The offering sees HP take on all the mucky work of running a business' hardware fleet, including provision of device management and security services. Providers of such services also perform chores like rapid delivery of replacement machines to cover breakages.
HP said it's added Apple to the roster of products it supports because its customers operate multi-OS environments and it didn't want to miss out on the fun.
HP's move probably can't hurt Apple, which has gained an ally with very long reach into enterprise accounts and therefore made it easier to buy and run Apple kit.
HP has also taken care of itself by adding its own VR kit and micro-workstations to its Device as a Service offering.
Another new addition glories in the name "HP Tech Café Market" and includes vending machines stocked with useful PC supplies and accessories.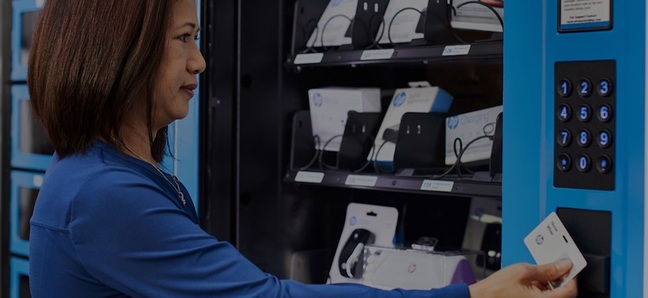 One of HP Ink's new Tech Café vending machines. Click here to embiggen
Kit in the machines can be acquired with swipe cards tied to an organisation's Device as a Service account, for just-in-time and presumably pleasingly-paperwork-free access to devices when users need them. The machines will probably also be more convenient than an Apple Store. It may not be possible for them to be more expensive places to shop. ®