A California electronics recycler is fighting to stay out of jail after he admitted copying thousands of Windows reinstallation discs for use with refurbished PCs.
As an e-waste warrior, Eric Lundgren wished to see discarded computers fixed up and reused rather than crammed into holes in the ground. To encourage people to refurbish and continue using unwanted Dell PCs, he burned and attempted to distribute 28,000 copies of the IT giant's Windows XP and 7 restore discs. These discs can be used to wipe clean a machine's storage and reinstall a fresh copy of Microsoft's operating system.
Well, US prosecutors weren't impressed by this caper. The discs were intercepted in transit by federal officials, Lundgren was taken to court, and in May last year he pleaded guilty to conspiracy to traffic in counterfeit goods and criminal copyright infringement.
At the time, the 33-year-old was sentenced to 15 months in the clink, and fined $50,000. His coconspirator, Robert J. Wolff, of Boca Raton, Florida, at the time 54, was put under six months of house arrest and given four years of probation. The district court granted Lundgren, of Reseda, California, a stay of sentence, allowing him to challenge the punishment without a trip to the Big House.
At the turn of this year, Lundgren submitted paperwork to the US 11th Circuit Court of Appeals to overturn that prison term.
At issue is the value of the infringed products, in this case the 28,000 Windows restore discs that Lundgren burned for use with refurbished Dell PCs. Crucially, the computers he created the discs for had valid Windows license keys. The discs were, in one sense, cleaning tools for wiping a machine and preparing it for reuse, rather than depriving Microsoft of a Windows sale.
The value of those discs, though, was used as the basis for the 15-month term. Lundgren's attorneys argued that in sentencing him, the court incorrectly equated what is essentially a free restore disc to an entirely new copy of Windows. After all, Dell offers its reinstallation media for free from its website, whereas Microsoft typically charges for copies of its operating system.
Authorized
Lundgren's lawyers argued the restore discs themselves are essentially worthless without a valid product key, something all of the refurbished machines already had.
"The reinstallation disc was merely a 'recovery solution' — ie, a means of getting the free OS back onto admittedly authorized computers in the event of a catastrophic failure," Lundgren's lawyers wrote in his appeal filing.
"Indeed, the trial court found that any consumer who lost his or her reinstallation disc could obtain a free replacement copy from the original equipment manufacturer."
The case brings up an interesting debate about what constitutes both a copy of software and a license. While Lundgren pleaded guilty to the copyright infringement counts for copying the discs – he said he burned the discs to help others restore the used Dell PCs and put them back into circulation – his attorneys want to dispute the basis for his prison sentence.
Arguing that a copy of Windows is essentially useless without a product key, and that all of the recycled machines had their own valid keys, Lundgren's lawyers suggested what he did was merely make it easier for the owners to get something they were already entitled to for free.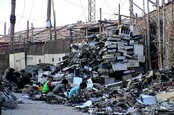 $19 billion made from dumped e-waste every year, says UN
READ MORE
"The government admits it offered no evidence of the value of Windows OS without a license or product key. The Government blames its lack of evidence on the fact that there is no market for copies of Windows OS without a license and product key," the appeal filing stated.
"The reason there is no market for a copy of Windows OS without a product key is, as the Government admits, that a licensed owner of Windows 'can download replacement Microsoft software for free after proving that he or she has a genuine license'."
Lundgren's lawyers are now lobbying the appeals court to vacate the 15-month sentence, and send the matter back to a district court to reconsider. The timing of the next hearing in the case has not been set.
"I thought it was freeware," Lundgren told the Washington Post this week.
"If it's free, then I'm just going to duplicate the free repair tool and give it away, and that'll be fine. The value's in the license. [The court] didn't understand that." ®