We sent a vulture to IBM's new developer conference to find an answer to the burning question: Why Big Blue?
'We're Java experts'
Index At the first IBM Index developer conference in San Francisco, California, on Tuesday, I spent the morning at a Kubernetes workshop learning that when apps on the IBM Cloud Container Service fail to deploy, the reason may not be obvious.
The presenter, IBM cloud program manager Chris Rosen, framed the event as an opportunity to attempt to answer another question that isn't evident to everyone: Why IBM?
IBM's Java CTO John Duimovich offered his answer during an interview with The Register. We'll delve into that discussion in detail in a follow-up article but here's his sales pitch.
"In the Java space, we're the experts," said Duimovich. "We have hardware experts. We've actually redesigned instructions on [processor architecture] Power and on [our mainframe] Z over the years to give better Java support. We have our own JVM, OpenJ9, that's newly open sourced this year. That's got advanced features that give you the same throughput for half the memory, for example."
In the cloud, he explained, that translates to workloads that cost half as much to run under memory-based pricing as a standard VM.
"Why IBM?" mused Duimovich. "We are driving a pretty aggressive optimization and ease of use story for cloud Java."
And there's more to it than Java and IBM's embrace of open source.
"The rest of the stuff – big data, analytics, the Watson portfolio – allows you to build a fairly compelling end-to-end cloud native app," he said. "We have the full picture, and more specifically around Java, we have probably the deepest skills on the planet."
"Why us?" Duimovich asked. "Why would you pick anyone who doesn't have a JVM team? Why would you pick someone who doesn't have a full stack integrated with their cloud as your Java vendor?"
If only the other conference attendees I spoke with shared that certainty.
Trails
With regard to cloud platforms, IBM isn't top of mind. By the public cloud revenue metrics of IT consultancy Gartner last September, it doesn't even merit mention by name. Consigned to the "Other" category, Big Blue trails behind Amazon, Microsoft, Alibaba, Google, and Rackspace.
Financial firm Jefferies in a December report was more charitable, ranking IBM third in public cloud revenue behind Amazon and Microsoft.
As for its overall business, IBM, while still mostly profitable, has a lot to prove. In January, the company reported its first quarter of revenue growth after years of shrinking sales. But it's too soon to tell whether the patient has stabilized.
The humbled services and mainframe giant has placed several high-profile bets on possible future cash cows: its Watson artificial intelligence service, quantum computing, cloud services, and blockchain tech.
Interviewed in a hallway during the conference, John DeFalco, CEO of Custody Cloud, a firm developing applications for law enforcement, had few kind words for IBM.
DeFalco said he was not impressed IBM's technology stack. He said he'd used some BlueMix services for fintech applications and felt that the company's cloud offering was lacking.
He also expressed skepticism about the corporation's management. "I would never put a dollar of my money in a company run like IBM has been," he said.
Nonetheless, he said he bought a ticket to the conference to learn more about blockchain technology, because of its potential for securing and tracking data associated with individuals in police custody. He also expressed interest in TensorFlow.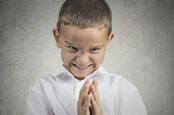 Black & Blue: IBM hires Bain to cut costs, up productivity
READ MORE
A developer with IBM's cloud business who asked not to be named because he was not authorized to speak to the press said he felt generally hopeful about the direction of the company.
He expects IBM will do well with businesses looking for hybrid cloud deployments – these companies want to move some of their applications to the cloud but they also don't want to move too fast or to give up too much control.
He said he felt Watson was the most promising strategic initiative because it's not something other companies have.
Wall Street's Jefferies was not so optimistic in a report issued last July. The finance firm pegged Watson as a money pit, noting "the returns on IBM's investments aren't likely to be above the cost of capital." The firm also expressed doubt about IBM's ability to compete for AI talent.
A speaker at one of the conference workshops who asked not to be named – as he may want to be invited back – said he wasn't sure what the answer to the question "Why IBM?" might be. He said he'd been invited at the last minute and wasn't really that familiar with IBM's offerings, noting that he used AWS generally and hadn't seen anything that made him want to switch.
A conference attendee from an open-source database biz, also preferring anonymity, explained his presence by remarking that his firm has an interest in ensuring its product interoperates with open-source cloud application platform Cloud Foundry and IBM offers Cloud Foundry.
Another conference attendee, who asked not to be named, said it wasn't IBM's technology in particular that prompted him to attend. Rather, as a front-end developer, it was open source tech that was relevant to his job and interests.
Also, he said, his company had some extra money allocated to conferences that needed to be spent. His ticket to Index helped zero out budgeted funds.
Benjamin Aaron, a data scientist with mobile health app startup Vytality, said he was attending the conference to compare IBM's deep-learning technology with services available from rivals. The app sends elder care notifications to family and friends, he explained, and he is looking into deep learning as a way to prioritize and filter notifications.
He said he didn't have any feelings about IBM one way or another. "Frankly, the tickets were offered at a discount on Meetup and I figured as might as well," he said. ®