This article is more than 1 year old
London Mayor's chief digi officer: 'Have faith and give us a chance'
Theo Blackwell says data can help capital cope with 1m more bods
Cynics could be forgiven for seeing the Mayor of London's newly created six-figure chief digital officer role as a policy wonk title. Speaking to The Register on a rainy morning at City Hall, Theo Blackwell describes it as "a digital leadership role."
So four months into the job, what key point would he communicate to reassure sceptics and justify the £107,000 advertised role? "£107,000? Have you just given me a pay rise?" he shoots back.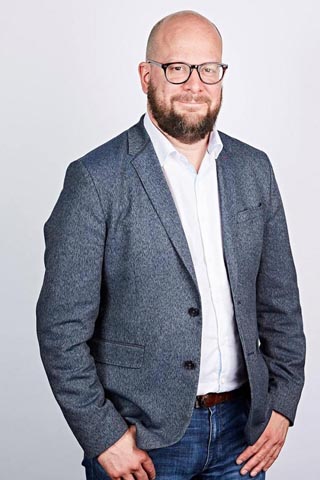 London, meet your new chief digi officer – Theo Blackwell
He says: "It's one of the most exciting jobs, to be in a position of trying to knit tighter the great things that are happening in London. At this time we can really make a difference on the things that matter most to Londoners. So I'd say to your readers: have faith and give us a chance."
Blackwell says he wants to work "in the best spirit of what I see in the technology industry, which is people collaborating to fix problems."
Prior to landing the role, he was a Labour councillor for 15 years in Camden, becoming the council's Cabinet member for Finance, Technology & Growth. He has previously held a few PR jobs; he advised Martha Lane-Fox in her role as Digital Champion; and he worked as head of policy and public affairs at gaming trade body Ukie.
In fact, he first came to our attention as the highest ranked UK politician in World of Warcraft (he was Undead Destruction Warlock PlaguePit). He confirmed to The Register that he no longer plays the game.
Data, data everywhere and not a drop to drink
It's certainly true the city faces a number of issues in the coming years, with Blackwell pointing out the growth in population of about one million in 20 years - the size of four boroughs.
"So there are London-wide challenges we face, such as poor air quality, congestion, homelessness and the impact of people moving from borough to borough."
Just what impact all those extra bods will have on the already-creaking transport network hardly bears thinking about.
His answer is to try to bring the city's 33 boroughs together, along with the NHS and TfL, to improve data sharing. As such he has apparently stated a listening exercise for a new Smart London plan, which will launch at London Tech Week in June.
At Camden he says he won support for using data more effectively by embedding it in the overall business plan, rather than have a separate strategy. "It's all got to fit together in the wider programme. The ultimate business case is having confidence in your budget, and that takes you down a wider road of reform."
Another key part of his role involves working with bodies across London to identify public buildings that can be used to tackle so-called Not Spot areas. He says an investment pot to tackle poor 4G and fibre will also be launched, and the city is also in the process of drawing up a plan to invest more in cyber security.
But with no central mandate across local government, isn't there a danger this could all become a talking shop?
"It needs to be a conversation that starts with consent, rather than forcing people to do things," he says, adding that a "coalition of the willing" is more effective than forcing boroughs to open up their data.
Challenges of outsourcing
Out of 33 boroughs, he says around 12 to 14 have made moves towards being open to new technology. "There are a bunch of boroughs that are still in the channel shift, customer service dialogue… and some other boroughs that are harder to reach, either because they have entirely outsourced their IT function, and don't see themselves as being part of that debate."
One notable example is Barnet, the so-called "easyCouncil", famed for outsourcing the majority of its functions in a controversial half-billion pound contract with Capita.
Blackwell says he is personally a great believer in having lots of in-house capacity in local government. "Its difficult when you've outsourced your innovation. I think you can buy better and certainly have the capacity to deliver better if you retain that in-house capacity.
"In fact, those relationships with outsourcers are enhanced by having a good solid in-house capacity." He believes there has been a change of mood from the CIOs and big companies. "The don't want to be characterised as locking customers in, either."
Blackwell notes that other major cities have also appointed CDOs, for example New York appointed one in 2011. But he reckons Blighty is a slightly different proposition. In America, it was described in terms of a "big marketing exercise" for the city. "And you think how well would that land here?"
He believes the role is needed to address London's specific problems. "One of those challenges is that it is a combination of lots of lots of city-sized boroughs all together. When you look at Barnet or Croydon, they are essentially the same size as New Orleans."
"London's challenge is how can we work better together." ®