This article is more than 1 year old
Use ad blockers? Mine some Monero to get access to news, says US site
Cryptocurrency trend moves into publishing as Salon comes up with plan to make customers pay
US website Salon.com has decided that if people want to block its ads, they should pay in another way - by allowing the biz to use their computing power to mine for cryptocurrency.
On visiting Salon's site, users with an ad blocker are greeted with a message that asks them to either disable the kit or allow the site "to use your unused computing power".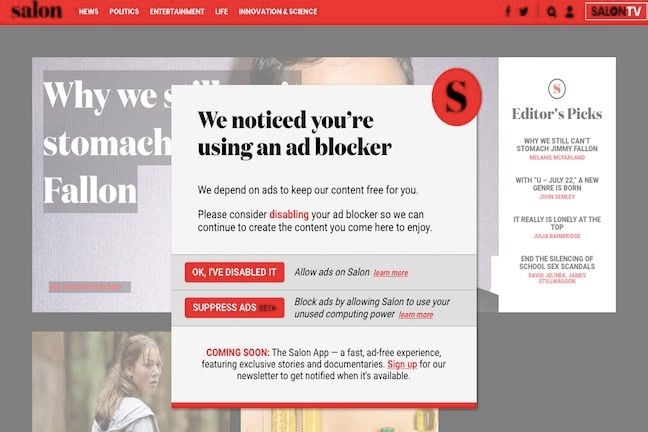 Media outlets are struggling to make ends meet, and finding new ways of funding is crucial for their continued survival. So while others are looking to paywalls or premium options, the popular news and opinion site has decided to try and make money in the most hipster way possible.
In its FAQs, Salon says that the recent increase in ad-blocking technology has "cut deeply into our revenue" - so what else can it do but use readers' "spare" computing power to go mining?
"For our beta program, we'll start by applying your processing power to mine cryptocurrencies to recoup lost ad revenue when you use an ad blocker," the site said, adding that Monero is being used for the beta.
It goes on to tell readers that their unused processing power is not being used "to it's [sic] full potential" while they're browsing the site.
The site also shamelessly tries to align its mining masterplan with other systems that use computing power for greater good, saying "in the future" it may be used for "humanitarian and scientific projects".
For those who might not know how the process works, Salon has a handy explainer that makes it all sound rather innocent: "Think of it like borrowing your calculator for a few minutes to figure out the answer to math problems, then giving it back when you leave the site."
In the main blurb, Salon does note that "mining uses more of your resources which means your computer works a bit harder and uses more electricity than if you were just passively browsing the site with ads", with a further question later on explaining why people's fans might be turning on.
But ultimately, the only choice people have is to not read, set the ads free or let them mine Monero. ®