The YouTube crackdown on fake news: Promoting bonkers Florida school shooting conspiracies
Google, you're doing a heck of a job
---
Comment YouTube is under fire again for promoting fake news, despite promising repeatedly in recent weeks that it is improving its systems to limit the exposure to false information.
On Wednesday, the number-one video on the web giant's "trending" page – where it spotlights the most current or relevant content – was a video claiming that one of the students who has publicly called for gun control measures following a shooting at their high school earlier this week was, in fact, a paid actor.
A search on the name of the student – David Hogg – also revealed a long list of similar videos promoting what has become a common conspiracy in right-wing circles: that critics of specific policies are paid "crisis actors." There is no truth to the claims and they have no basis in fact.
David Hogg is in fact a student at the Marjory Stoneman Douglas High School in Parkland, Florida, USA, where 17 classmates and teachers were shot and killed by a former student on February 14 – and Hogg was present when the shooting took place. But the decision by Hogg and several other students to go public with demands for gun control legislation has put them at the center of press attention and in the middle of one of the most contentious issues in US society.
In this case, the video that appeared at the top of YouTube's trending list used footage from last August from a local CBS TV station. Hogg appeared in the story, which covered an altercation between a lifeguard and a friend of Hogg's. He filmed the exchange and that formed the basis of a short news piece.
That was sufficient to peg the "crisis actor" conspiracy and the trending video was subtitled "David Hogg, the actor." Given the high profile of the trending video slot, it attracted immediate attention and condemnation and YouTube moved swiftly to remove the video.
Oops?
A company spokesman explained the video had appeared in error: "This video should never have appeared in Trending. Because the video contained footage from an authoritative news source, our system misclassified it. As soon as we became aware of the video, we removed it from Trending and from YouTube for violating our policies. We are working to improve our systems moving forward."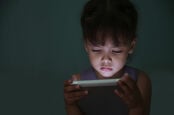 Better filters won't cure this: YouTube's kids nightmare
READ MORE
But some uncomfortable facts remain: the video was posted by a Mike M with the username "1234mukk" whose YouTube channel has just 1,274 subscribers – most of which subscribed after his video was flagged by YouTube.
How did a fake news video posted by a user with virtually no profile become the number one trending video on one of the internet's most popular websites?
The answer is almost certainly because of the actions of other YouTube users. Given the obscure nature of the video and easily disprovable claim that Hogg is a paid actor, the video can only have been subject to a concerted promotion effort on the part of a large number of users.
Which is, of course, the exact behavior that has been repeatedly identified as the result of Russian trolls using fake accounts to promote divisive content. That behavior formed the basis of a recent indictment by special prosecutor Robert Mueller over Russian interference in the US presidential election.
Despite months of in-depth investigations into the distortion of social media platforms, and several formal hearings by lawmakers in both the US and UK, it appears that Google-owned YouTube remains unable to prevent the manipulation of its own systems.
It's impossible to know how troll-bots continue to bypass the company's best efforts because YouTube refuses to provide any information about its ranking mechanisms.