The UK Commons Select Committee for Science and Technology has begun taking submissions for an inquiry into the "Impact of social media and screen-use on young people's health".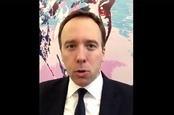 What a Hancock-up: MP's social network app is a privacy disaster
READ MORE
Politicians have taken notice of concerns arising from recent reports about the impact of young eyes glued to screens for hours at a time on the daily. The Education Policy Institute reported in what is unlikely to be a surprise to many parents, that 95 per cent of UK 15-year-olds use social media. After all, the lower age limit for services such as Facebook or Snapchat is officially 13.
What may be more worrying is that children as young as eight have access to social media and are struggling to manage it, according to the Children's Commissioner. After all, no child has ever managed to subvert age restrictions. Of course they haven't.
The Royal Society for Public Health's June 2017 report (PDF) cited in the inquiry concluded that there was "no scientific consensus on the impact of screen-based lifestyles on the mental health of young people".
However, the inquiry also cites a US study that claims the mere act of carrying a smartphone around "reduces available cognitive capacity". A further 2015 study points to a connection between sitting in front of a screen and raised blood pressure in children.
As ever, it is possible to find a study to support almost any theory.
It is against this background that the Select Committee has decided to act, with a goal of getting parents informed and improving the education of children in the use and management of social media.
Submissions are being taken up until April 6. The Committee are looking for evidence on the positive and negative aspects of exposure to social media, monitoring techniques and mitigation methods. Concerned citizens can have their say here.
The members of the Select Committee for Science and Technology are relatively well-placed to understand the lure of social media, with all bar MPs Bill Grant and Graham Stringer having at least a Twitter account – though we couldn't possibly comment on whether they're losing hours a day hanging out on the micromessaging platform.
The anodyne content spewed out by a Member of Parliament's social media mouthpiece is unlikely to attract all but the most politically engaged young person. Parents are doubtless grateful for such small mercies. ®