This article is more than 1 year old
NRA gives FCC boss Ajit Pai a gun as reward for killing net neutrality. Yeah, an actual gun
Decorum isn't even visible in the rear-view mirror at this point
Ajit Pai – chairman of America's broadband watchdog, the FCC – is the proud new owner of a handmade Kentucky long gun from the US National Rifle Association (NRA) – thanks to his brave stance in favor of lining the pockets of billion-dollar telcos.
The watchdog boss said he was surprised to receive the Charlton Heston Courage Award from the association at the Conservative Political Action Conference (CPAC) in Maryland today. His reward, a showpiece gun, was not actually handed out on stage, quite possibly because CPAC has a no-weapons policy for its events.
The gong – whose past recipients have included Vice President Mike Pence, Rush Limbaugh, and Sheriff David Clarke – is given out to those who have "stood up under pressure with grace and dignity and principled discipline."
"As soon as President Trump came into office, President Trump asked Ajit Pai to liberate the internet and give it back to you," said Dan Schneider, executive director of the American Conservative Union, in announcing the prize.
"Ajit Pai is the most courageous, heroic person that I know."
This outpouring, and loaded political gift, was sensitively timed to take place right in the middle of an intense debate in the US over gun control, in the aftermath of the Marjory Stoneman Douglas High School massacre in Florida.
The liberation referred to was, of course, Pai's efforts to revoke Title II classifications placed on American ISPs by the previous FCC administration, effectively tearing up the nation's net neutrality provisions.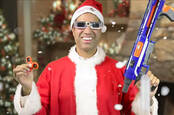 FCC douses America's net neutrality in gas, tosses over a lit match
READ MORE
Pai's declaration, branded "Restoring Internet Freedom," axed safeguards against things like the unfair prioritization of certain online services over others, and the throttling of connections to websites.
Critics have charged that this restoration brings about anything but "freedom" to an American public that may, at some point in the future, be told to pay, say, an extra $20 a month for non-throttled access to news websites. US ISPs were edging toward limiting access to services that rivaled their own offerings, hence the rush to set net neutrality in stone to keep telcos honest. Now, thanks to Pai, those protections have been stripped away.
And, sure, of course, we live in a free market: if a broadband provider tries to screw over its subscribers, punters can switch to a fairer ISP. In theory. The level of competition is embarrassing, though, and many Americans have little or no choice in their high-speed broadband provider.
In response to Pai's dismantling of net neutrality, a number of US states have moved to adopt their own open-internet rules, while Mozilla is leading a push to challenge Pai's rulings in court.
The new rules – or lack thereof – are set to go into effect on April 23. ®
Boo-note
Speaking of CPAC, Facebook thought it would be a good idea to show off a virtual-reality shooting game at CPAC right after this month's high-school mass shooting in Florida. It quickly pulled the demo, "out of respect for the victims and their families."
Facebook is at CPAC and they have a VR shooting game pic.twitter.com/wmV23jezpN

— Sean Morrow (@snmrrw) February 23, 2018