Facebook recruits Nokia to trial and standardise Terragraph wireless tech
Fibre to the pole, then Facebook's well-behaved wireless brings signal to the great unwired
Facebook hopes to get parts of its Terragraph wireless comms platform standardised by the IEEE, and has recruited Nokia to help.
Terragraph is a big part of Facebook's plan to connect the "next four billion" to Facebook the Internet using the 60 GHz band. First announced in April 2016, the Terragraph team is helping inform the mmWave working group in its Telecom Infrastructure Project, which has been recruiting partners since May of the same year.
The tie-up gives Facebook access to backhaul technology: Nokia's WPON (Wireless Passive Optical Network), first launched in October 2017.
WPON is a different take on FTTx: instead of dropping the high-speed fibre signals onto some kind of copper access network at a node or distribution point, Nokia uses 802.11ad access points for street-pole and outside-wall installation. The Social Network™ has claimed connections will be possible 300 metres from each access point, at gigabit speeds.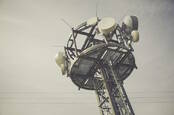 Facebook sniffs at slow telcos, launches own Telecom Infrastructure Project
READ MORE
It's the fibre part of WPON that The Social Network™ wants. In the joint trials anticipated later this year, Nokia's WPON will use Terragraph for the wireless part of the network. Terragraph adds mesh routing, multi-hop support, and high reliability to the air interface.
The demonstrations will also support Facebook's other ambition: having Terragraph technologies written into the coming 802.11ay standard.
That's right: the same Facebook that in 2016 told The Register the pace of standards development is "just too slow" wants a standards body to adopt its technology.
In its canned statement, Nokia identified Facebook's "efficient TDMA scheduling" as one of the technologies they want to promote while they "work together to accelerate" the standard.
The IEEE published the earliest 802.11ay drafts in the first quarter of 2017, and it reached Draft 1.0 status in November. The proposed standard claims raw data transmission rates up to seven Gbps, and a physical layer designed for low power transmission. ®