This article is more than 1 year old
Nokia tribute band HMD revives another hit
Can you play the slide that was in The Matrix?
MWC18 Nokia tribute act HMD has revived another of the band's classics – the slider phone made famous by The Matrix.
HMD has retained the original name from 1996 – the Nokia 8110 – and it hopes to repeat the successful formula that attracted so much attention to the redesigned 3310 last year.
The re-recorded 8110 (2018) slider comes in a plastic body, which means it's unlikely to carry over the sinister flick-knife menace of the original, used to great effect by Keanu Reeves. If that was an assassin's tool, this is more of a toy. HMD has no apology for positioning it as a feature phone and described it as a "vacation phone".
The 8110 4G is interesting for being the first big bet on Mozilla's abandoned phone OS by a big-brand phone maker. The "Smart Feature OS" from KaiOS is one of three Mozilla offshoots we are aware of, and gives it 4G and built-in "curated" apps including Facebook and Twitter. Don't get your hopes up, devs: KaiOS intends it to stay "curated" and the apps store is not currently taking submissions.
Nevertheless, the software has allowed HMD to pack more modern features into the 8110 (2018) than Nokia's creaking, decrepit Series 30 would have allowed, like 4G VoLTE calls, Wi-Fi, Outlook sync and Google Maps. The phone touts a 2MP main camera and a Snapdragon 205 with 512MB of RAM. Trying getting a modern Android to run well in that spec.
Say hello to Nokia's retro line up side-by-side with the originals. Gotta love a bit of mobile phone nostalgia. #8110 #3110 #retro #MWC18 #BananaPhone #MatrixPhone pic.twitter.com/8zjbCl8UNH

— Ben Wood (@benwood) February 25, 2018
The 1500mAh battery should keep you going: 17 days of standby and nine hours of talk. It comes in banana yellow and black. Snake has been updated.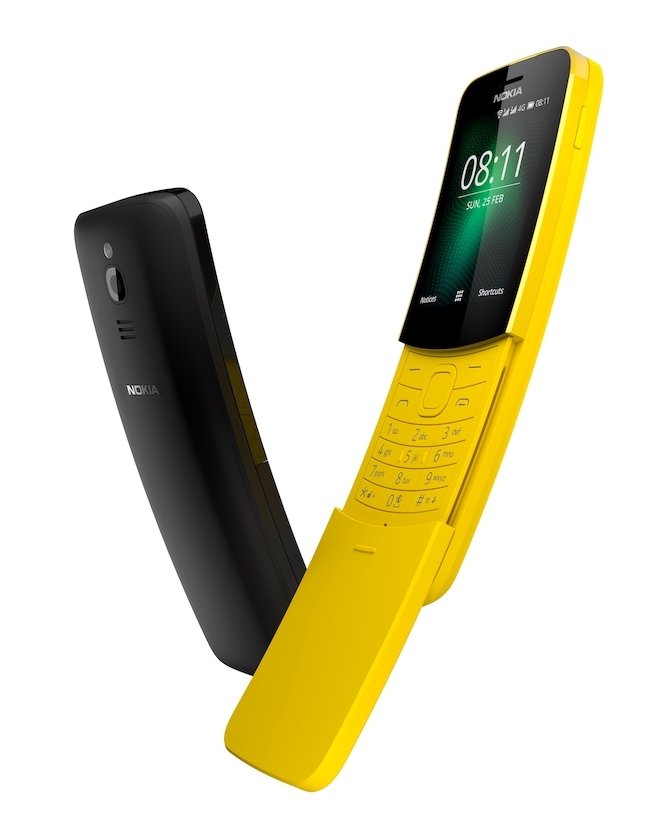 Click to enlarge
People say the band's lineup has changed beyond recognition, but they still know what draws a crowd. More here. ®
Bootnote
Nokia also launched a portfolio of Android products and has gone all in with Google's Android One programme at the low end. Google specifies the look and feel to makes sure all phones look the same – and the phone user gets 18 months of updates. That's bigger news for Google than HMD; we'll cover the Android portfolio in a separate story.