Sony Xperia XZ2: High-res audio but no headphone jack
Plus: Holey headsets Batman, I can hear a car coming
---
MWC18 Sony launched the Xperia XZ2 and XZ2 compact at an early morning press event as Mobile World Congress opened in Barcelona.
A key feature in the Samsung S9, super slow-mo video enabled by a 960fps camera (for short 0.2 second bursts), was already a feature in last year's Xperia XZ1, Sony reminded those present.
Unlike Samsung, Sony Mobile does have phones on Google's Android Enterprise recommended list: the Xperia XZ1 is there and the XZ2 can be expected to join it. At the same time, Sony is miles behind Samsung in business-oriented features, and indeed Sony marketing exec Hideyuki Furumi described the XZ2 as "the ultimate entertainment device".
The XZ2 (72 x 153 x 11.1mm) is a little larger and substantially thicker than last year's XZ1 (73 x 148 x 7.4mm), and the display has gone from 5.2" 1080 x 1920 to 5.7" 1080 x 2160 with HDR (High Dynamic Range).
This is the first smartphone to feature 4K HDR video recording, says Sony.
The processor is now the Qualcomm Snapdragon 845 and there is a bigger battery (3180 mAh versus 2700 mAh on the old model), as well as support for Qi wireless charging. Video can now be captured in 4K with HDR. The microSDXC card support has been bumped to a maximum of 400GB from 256GB.
The XZ2 Compact has a 5.0" display though with the same resolution and many of the same specs as its bigger sibling, including the "Motion Eye" camera.
On the audio side, there is no Dolby Atmos but Sony does continue its support for high-resolution audio, despite the fact that even CD quality (16-bit/44.1 KHz) is good enough for a smartphone and arguably for human hearing. Leaving that aside, sound quality is excellent as you would expect given Sony's audio heritage, though there is no headphone jack so you will need an adapter for your old wired headphones.
Haptic support called a Dynamic Vibration System "analyses audio data and lets you feel the action in your hands," with music, games and video. However nobody asked for smartphones that behave like a game controller and this seems a pretty bad idea, especially with music.
There's a hole in my headset... thank goodness
Also announced at MWC was the Ear Duo headset, a wire-free solution which is designed to let you hear external sounds as well as your music or phone call, thanks to a deliberate hole left in the ear gels. This is a great idea – especially if you are in the habit of wearing a headset while running in urban areas, for example, with roads to cross.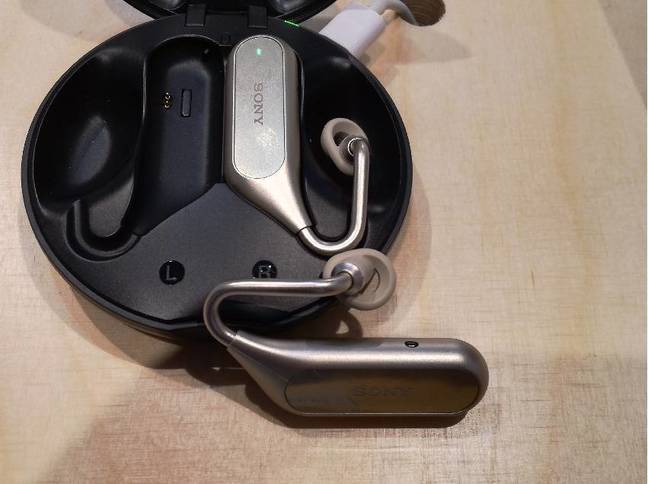 The Sony Ear Duo is a headset designed to let you hear external sounds as well as your music. If you squint at the picture, you can see the hole in the ear gel that makes this work.
In combination with the Sony music app, the Ear Duo also lets you control volume, pause and skip tracks through head movements; so take care not to nod in time to the music. In my quick test, the track skip worked but not the other features, so it looks like you need the right kind of nod.
Sony has the right expertise in design, optics and audio, but its smartphones have failed to capture a substantial market share. "In 2017, Sony's market share was 1 per cent which was little changed from 1.1 per cent a year before," says IHS Markit analyst Ian Fogg.
"In the past, Sony has also offered on-smartphone audio noise cancellation, high quality audio formats, and the smartphone industry's first 4K display all ahead of the market. But Sony has failed to market these features to consumers and use these differentiated features re-grow its business."
Where is it going wrong? One of the issues is that the high-end Xperias are expensive for consumers, but Sony Mobile does little to attract business users. It could also do better on the software and services side.
The Xperia XZ2 launch looks unlikely to change that, despite being a nicely designed pair of phones with impressive cameras.
The price is not yet announced but will likely be similar to the XZ1 range, currently £549 and £449 for the XZ1 compact. Available next month.®
Similar topics
Narrower topics