You can Ring my bell: Amazon pays ONE BEEEEELLION+ dollars for smart home upstart
Ring-a-ding ker-ching! A lot of bling for an Internet-of-Thing...s
Fully squaring up to Google in the smart home world, Amazon has gobbled smart home upstart Ring, apparently paying more than a billion dollars for it.
The acquisition is a smart one (geddit?) for the Seattle e-commerce monster, as it tries to build on top of its Alexa digital assistant but risks being outflanked by Google and Apple as they attempt to use smart home hardware to push their own digital assistants and app ecosystems.
The big winner here, though, is Ring and its CEO Jamie Siminoff, who realized his company's value to Amazon and extracted at least a 30 per cent premium on top of an already healthy valuation of around $750m.
We chatted to Siminoff about three years ago when the company was about 10 people in a small warehouse in Santa Monica, California, and the smart home market had started experiencing a renaissance.
At the time, Ring was focused entirely on its smart internet-connected doorbell. Despite some significant design limitations – its Wi-Fi doorbell battery degraded pretty fast making it pretty much useless after a year of use – Ring found itself with almost a clear run at a growing market.
But that rapidly changed as smart phone technology and ubiquitous home Wi-Fi networks brought others into the market. Most worrying for Ring was the expansion of smart-home poster child Nest into its market: Nest is expected to launch its own smart doorbell later this month.
Last year, Alphabet-owned Nest announced it would launch a security system. Ring responded literally a week later with its own system. Both companies have also recently launched smart security cameras.
Alexa, what does competition look like?
But what really got things moving was the success of vocal digital assistants that could interact with smart home devices.
Suddenly you ask your Google Home or Amazon Echo to turn on the lights, or turn up the heat, and it responded. It made all the difference: no longer did you need to pull out your mobile phone, open an app and choose the right option when it was just as fast to get up and make the change yourself.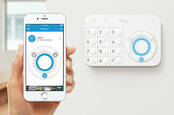 Smart burglar alarms: Look who just tossed their hat into the ring ... It's, er, Ring
READ MORE
Last week Nest announced that it was incorporating Google Assistant into its products – meaning that its products will seamlessly work with Google Home.
That was enough for Amazon to realize it needed to move fast on smart cameras, smart doorbells and smart security systems. And there was only one company doing it all that was available to buy: Ring.
We were able to confirm Geekwire's earlier rumor that the Jeff-Bezos-run web bazaar is indeed sliding Ring onto its finger. According to Reuters, the shopping giant shelled out more than a billion bucks for the upstart. The doorbell designer is therefore Amazon's second-biggest acquisition to date, the biggest being Whole Foods for $14bn last year.
As things stand, Nest occupies the high-end market thanks to its slightly better design, better build and premium price, and Ring sits in the mid-market with very similar products at a lower price.
Whether that changes we will have to see. There is a clear opportunity for Ring to hit the mass market, building on top of the Amazon brand and the Alexa-powered Echo and Echo Dot. This is something that Nest and Google is all too aware of, having released a cheaper version of its famous smart thermostat, and last week offering a cheaper five-day cloud storage offering for $5 a month, where previously its cheapest offering was $10 for 10 days.
In short, it's full speed ahead for the smart home market.
As for Apple and its HomeKit. Still only for fanbois, we're afraid. ®