Musician Neil Young has spent years railing against the poor quality of digital audio.
And now he's taken aim at Google, Facebook and Amazon for having "figured out a way to use all the great music of everyone from all time, without reporting an artist's number of plays or paying a f*cking cent to the musicians."
"Aren't they great companies?" Young asked his readers. "It makes you wonder where the next generation of artists will come from. How will they survive?"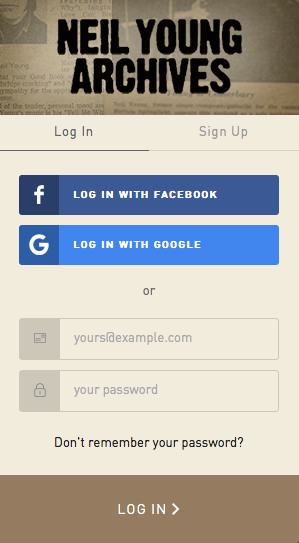 Young's beef appears to be that Google indexes pirate sites and lists them in its search results, all while coining it from ads.
Readers may, however, find it somewhat ironic that if they try to read Young's rant, they'll first see the challenge depicted to the right.
As you'll have realised, that's a requirement to sign in and up, with options to do so using Facebook or Google, before you can read Neil Young rant about the evils the companies perpetrate.
It gets better: the site's legalese states "…. we are not responsible for the information collection, usage and disclosure practices of third parties."
All of which means Young lets Google slurp data on a page arguing against the very same thing.
At which point it perhaps becomes apt to quote Young himself:
Got it from a friend
On him you can depend
I found out in the end
It was a piece of crap. ®