Virgin Media's Brit biz broadband goes TITSUP: Total Inability To Support Upset People
Service knackered for several hours today
---
We knew Virgin Media was going down the toilet – but not quite this way. For several hours on Tuesday, its business broadband has been offline in the UK, leaving folks unable to reach the internet.
"Our customers may be experiencing a total loss of service on broadband and data services," the cable ISP admitted earlier this afernoon.
"We're currently experiencing a problem which is affecting our broadband and data services. We're working hard to resolve this as a priority and apologise for any inconvenience this may be causing."
Angry Reg readers have told us the outage kicked off around lunchtime, and connectivity for non-leased lines was still broken past 5pm. And it appears to still be down at time of writing.
"This is starting to get ridiculous," one vulture fan fumed. "There's no information at all. I have now lost almost an entire day of working."
Over on the Down Detector site, subscribers have been complaining of no working business broadband today. Home internet access appears to be OK.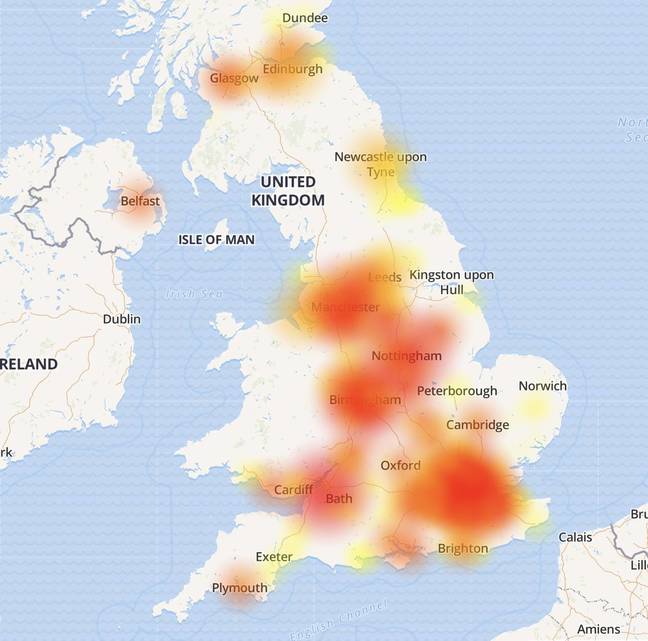 Red marks the not-spot ... Outage map showing where complaints submitted to Down Detector are focused
"Business service in Sutton Surrey out most of today. Appalling service. Wish we had never signed up," sighed one subscriber, Gillian Heath.
"We have had no internet all day," a Birmingham construction biz complained. "Our business is internet based and thus the outage has cost us thousands. This is the worst service I have ever encountered. Anyone thinking of moving to Virgin Media, stay away."
It is claimed a database used to authenticate users onto the ISP's network broke down, kicking subscribers off the 'net.
Virgin Media's customer service reps insist engineers are working to resolve the cockup through the cold evening. We'll let you know if we hear any more information. ®
Updated to add at 2300 UTC
A spokesperson for Virgin Media has told us the outage should be over by now.