This article is more than 1 year old
Cryptocurrencies kill people and may kill again, says Bill Gates
Q&A touches on tough topics like 'Tabs or Spaces?'
Microsoft co-founder and philanthropist Bill Gates has labelled cryptocurrencies "a rare technology that has caused deaths in a fairly direct way".
Gates' remarks were made in a Reddit Ask Me Anything session that featured the question "What's your opinion on Crypto Currencies?"
Gates' full answer was:
"The main feature of crypto currencies is their anonymity. I don't think this is a good thing. The Governments ability to find money laundering and tax evasion and terrorist funding is a good thing. Right now crypto currencies are used for buying fentanyl and other drugs so it is a rare technology that has caused deaths in a fairly direct way. I think the speculative wave around ICOs and crypto currencies is super risky for those who go long."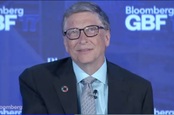 Bill Gates says he'd do CTRL-ALT-DEL with one key if given the chance to go back through time
READ MORE
Ouch.
Elsewhere in the Q&A Gates was asked "What technology are you most looking forward to in the next 10 years and what impact do you think it could have?"
His reply was "The most amazing thing will be when computers can read and understand the text like humans do," a feat he described as "kind of a holy grail of software particularly now that vision and speech are largely solved."
"Another frontier is robotics where the human ability to move and manipulate is amazing and experts disagree on whether it will take just a decade or a lot longer (Brooks) to achieve the equivalent."
Asked about automation, Gates opined that "Overall automation is a great thing - eventually we won't have to work as much but we are still at least a generation away from a big change there."
Gates also revealed that "Microsoft is making large investments in quantum - particularly in handling the error problems that most approaches have."
One particularly probing question Gates fielded was "Tabs or Spaces"?
"When I code I use tabs because you want the columns to line up," Gates replied. "For some Word documents I use tabs. You want things to adjust when you go back and edit them and tabs help."
Those among you who have sometimes wondered if Gates really understands lesser mortals may also be interested in his answer to a question about his favourite beer.
"I am not a big beer drinker," he replied. "When I end up at something like a baseball game I drink light beer to get with the vibe of all the other beer drinkers. Sorry to disappoint real beer drinkers." ®