This article is more than 1 year old
Tonight on IPO, Bought or Binned: Cloudian and Scality collide as object storage endgame nears
Rivalries intensify in what is now a two-horse race
Analysis Both Scality and Cloudian have received fresh funding as they race towards an IPO, acquisition or startup trash can – the three outcomes of the object storage endgame.
The object storage market situation can be viewed as four startups that made it to acquisition, four that haven't, of whom two have prospects.
Study this diagram for a second: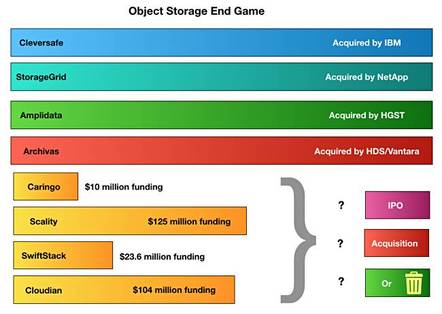 Amplidata, Archivas, CleverSafe and StorageGRID achieved acquisition exits for their backers when they were bought by HDS, HGST, IBM and NetApp respectively.
There are two other potential IT system supplier acquirers, Dell and HPE, and one unlikely one, Cisco. Dell has a sufficiency of object storage products – ECS for example, as well as Atmos – and, realistically, seems unlikely to buy another.
HPE has made a $10m investment in Scality and signed an OEM deal. It did not say how well this is doing in its latest quarterly results and HPE EMEA has made a reselling deal with Cloudian for certain object storage customers in the region.
Unlike HDS, IBM and NetApp, HPE has not bought an object storage startup. Will it? That is a great big question exercising the object storage investors.
It's notable that not one object storage supplier has made it to an IPO. This must be a less attractive IPO business type than all-flash arrays (Pure, Tintri) or hyperconverged infrastructure (Nutanix). Why is that?
The on-premises object storage market is dealing with most customers wanting file-level access, not raw object-level access, and integrated public cloud storage such as AWS (S3) and Azure. A multi-cloud strategy is now a given requirement, with object storage providing unstructured data storage needs inside that, data usable in the cloud, meaning native format storage, and with an on-premises file access wrapper, so to speak.
Until recently Scality, with its $125m in funding, was the clear frontrunner of the four to make it to an IPO or an acquisition, but times change, and it has misstepped while Cloudian had a growth spurt.
The missteps were indicated by Scality ejecting its COO and CMO, making some other layoffs and saying its business structure needed to be leaner. This might indicate that the HPE OEM deal is not bringing in as much business as originally hoped.
Scality employs around 200 people and has a long-term growth rate of 65 per cent a year. Fifty-one new customers came on board in 2017, 21 in the fourth quarter when it shipped more than 100PB of storage.
Its largest customers have over 100PB of data stored. It says it has a clear focus on very large customers, such as SNCF, the French railways business, and Bloomberg. It's also focused on large deployments, such as it is finding in the healthcare market.
40 per cent of its revenues come from service providers and 25 per cent from Global 2000 companies.
Cloudian has just gained $25m in equity funding from Digital Alpha Advisors. That takes total funding to $104m. Digital Alpha is also putting $100m on the table to fund customers buying Cloudian on-premises object storage through partners, with a pay-per-use model. It's calling this utility financing and bragging it has a close relationship with Cisco resellers.
Scality says HPE Step-up for Scality is a pay-as-you-grow programme that provides a customisable, budget-friendly payment option. It also says Cisco is a reseller and it's delivered a Cisco Validated Design for Object Storage and Cisco Solution Support for unified first call support.
The Cloudian customer count has now passed 200 and is growing, it says, strongly. Scality says it has passed 185 cloud-scale customers.
+RegComment
The big bucks endgame is already over for Caringo and SwiftStack, but Cloudian and Scality are sprinting round the track in their own private race.
Cloudian, founded in 2011, and Scality, 2009, are of a similar age, have similar funding, and are chasing some of the same big IT company relationships. We understand Scality has more employees and a large business infrastructure; and more offices than Cloudian, meaning it costs more to run.
But it probably sells to larger customers than Cloudian, and with a product that may be harder to tweak to demonstrate its best attributes. Cloudian could be more channel-friendly but maybe less capable.
Which will be the first to either get acquired or exit via an IPO? Whichever one does will likely signal a scaling back of ambitions by the other, senior management changes, and then company strategy changes as the investors look to get what they can from their investments. ®