We should pass laws to make Google's life hard! Oh no, sorry, did we say that out loud? asks IBM
Big Blue is all for rules cracking down on ads, social media
---
Add IBM to the list of tech companies putting their support behind America's Stop Enabling Sex Traffickers Act (SESTA).
The enterprise IT titan said the controversial US legislation was just peachy as far as it was concerned. Its legal eagles does not share the position of others in Silicon Valley that the incoming law, aimed at shutting down human trafficking online, would have unintended consequences on the internet.
Google, Facebook, the EFF, and their pals, have argued web giants will, under SESTA, be held responsible for what netizens post on social media or in ads, opening the corporations up to messy and expensive lawsuits they were previously shielded from.
And after glancing at web and cloud upstarts rolling their tanks onto the parking lot of its on-premises IT businesses, Big Blue has said, you know what, we're pretty happy with this internet crackdown. Regulations tackling companies that have cost us millions, or billions, of dollars? Oh no, what a shame.
Christopher Padilla, IBM's veep for government and regulatory affairs, today said SESTA's changes to Section 230 of the US Communications Act "will allow law enforcement authorities and victims to take legal action against internet media companies who knowingly facilitate reprehensible human trafficking content and activity on their platforms."
"IBM believes that sensibly crafted, limited exceptions to the liability exemption contained in Section 230 of the Communications Act are appropriate to help deal with this kind of online criminal behavior," Padilla wrote in a blog post titled, "With Great Technology Comes Great Responsibility."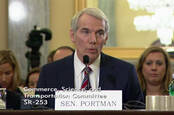 Congress battles Silicon Valley over upcoming US sex trafficking law
READ MORE
Big Blue's position is in line with that of fellow enterprise giants HPE and Oracle – the latter of which declared back in September that it would support the proposed legislation opposed by online rights groups.
Big Blue also hopes to see Congress crack down on internet advertising companies, cough, cough, cough, Google, Amazon, cough, Microsoft. The mainframe giant has thrown its weight behind the proposed Honest Ads Act, legislation that would require online political ads to disclose their financial ties and backing just as print and television spots do.
"Technology can be an enormous force for good. But companies that innovate to make life better must also embrace their responsibility to usher in new technology in ways that are transparent and readily explainable," Padilla concluded.
"They must continually earn trust through accountability."
Basically, technology old-timer IBM doesn't exactly mind seeing laws passed that make it harder for Google and other internet whippersnappers to rake in money. Dealing with the rise in web applications and online services has been a particularly painful adjustment for Big Blue to make, as the US corp only recently broke out of a five-year stretch of declining sales growth, and is still in the midst of restructuring its business around cloud and online services.
It does have a point about tech giants shrugging off responsibility, though. ®