Britain ignores booze guidelines – heads for the pub
No safe limit? Yerjokinarentyer?
A University of Sheffield study has found that controversial new alcohol guidelines published in 2016 had no discernible effect on British drinking habits.
"We cannot find any evidence of change in the COM-B determinants of drinking behaviour corresponding to the publication and promotion of the new lower risk drinking guidelines," wrote the Sheffield PhD student who led the study on the Institute for Alcohol Studies' blog.
If you remember, back in 2016, the UK's Chief Medical Officer Dame Sally Davies said there was "no safe level" of drinking – citing a report from the Sheffield Alcohol Research Group (SARG), also at Sheffield Uni, as supporting evidence.
Davis also lowered the recommended weekly alcohol intake guidelines for adults.
Temperance supporters rejoiced, but the recommendations and Davies' remarks drew criticism from the leading statisticians, who did not see a strong basis for the lower guidelines – and pointed out that the SARG report* had overwritten the well-established J-Curve of risk – moderate consumption is good for health, reducing the risk of strokes and heart attacks.
Davies' intervention left the UK with a lower "safety limit" than other countries. MPs and other experts argued that the emphasis on abstinence contradicted the principle that the public needed to make an "informed choice", as the CMO had simply set out to terrify the public into behaviour change. Graham Stringer MP warned that a consequence of a zero-alcohol would be that people would ignore the advice.
And guess what? That's just what they did.
The Sheffield Uni study's lead author, Abigail Stevely, wonders if this may be because the public didn't actually know about the new guidelines. However, these guidelines received great publicity, as the Google Trends screengrab below illustrates, with a huge spike in interest in the subject.
The Daily Mail had splashed them on the front page, calling them "the biggest shakeup of alcohol guidelines for 30 years". For a few days, Davies was all over the TV, too.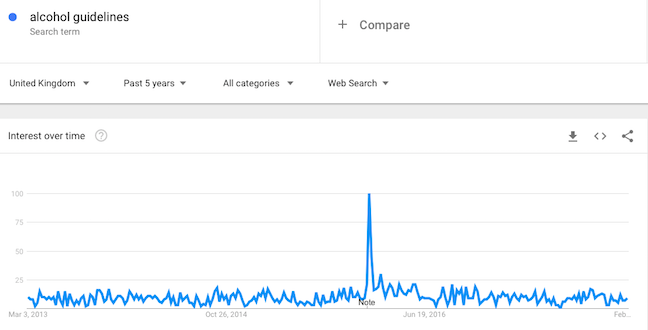 But are the guidelines even necessary, when Britain is becoming drier anyway? Last year found that teetotalism was found to be on the rise among the young – and underage drinking (amongst eight- to 15-year-olds) has fallen by 67 per cent since 2003, so the downward trend is likely to continue.®
Bootnote
*FoI requests in late 2017 showed the SARG academics noting they would "not normally program" the model in the way suggested by the UK's Guideline Development Group, which had the job of coming up with new recommendations. SARG strongly denies being pressured by Public Health England to make the 2016 model upon which the "no safe amount" guidelines were based more scary. Public Health England also denied pressuring the academics to make the numbers more scary.