What comes after the smartphone?
What comes after the smartphone? While there was nothing at MWC that looks likely to replace the many things these devices accomplish so easily, it is arguable that the faster the network becomes, the more attention shifts from devices to services.
Hence buzzword number two: AI. Huawei's slogan for the forthcoming P20 is "See Mooore (sic) with AI", the triple O hinting at the possibility of a third camera (the company has long featured dual cameras on its devices). AI can be transformative, though smarter AI is on a collision course with a desire for greater privacy, thanks to its reliance on personalisation through data analysis. Privacy is unlikely to win. Further, the battle in personal assistants looks like a two-horse race between Google Assistant and Amazon's Alexa, both of which were everywhere at MWC.
Google used a section of MWC called Android Works to showcase its technology, and in reality it was AI and Google Assistant rather than the operating system that were centre-stage.
There were demos of Assistant-driven products at home, including security cameras, heating, lighting and audio, as well as a short demo of a day in a Google-driven life, from having Android turn on the lights to locking the door when you go out and starting the cooking before you get back.
Micro...Microsoft? Is that you?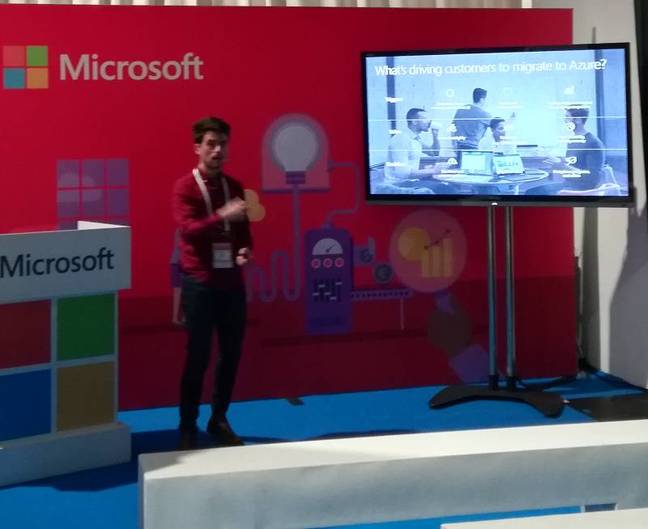 Microsoft was at MWC, pitching Azure to startups
Microsoft was also at MWC, though it took some finding, with its only official stand being in the 4YFN (Four Years from Now) startup event which took place in a separate venue from the main congress. It was pitching Azure to startups. The company's failure in mobile is well-known, though Windows Phone is missed by some.
During a briefing with HP I was told that a key factor behind HP embracing Apple iOS in its "Device as a service" offering is because Microsoft no longer has a mobile device for enterprises. Laptop launches aside, this was an ominous event for Microsoft, largely absent from the conversation as the scope of mobile devices increases.
Buzzword 3 = The Internet of Things
IoT was everywhere at MWC, both in the form of devices and of how to manage and use them. The industry is still working out though how to make sense of critical questions around data management, data governance, security, and application architecture.
The security issues are perhaps worse now thanks to the rise of edge computing, processing data locally before sending the results of local analysis to the cloud for further processing. Edge computing is a necessity.
"You need different layers of data processing," explained Norbert Heusser at Cisco IoT Cloud Strategy. "The typical two-tier architecture you see in most IoT solutions, sensor and cloud, is not suitable for a lot of use cases."
The problem is that as the amount of data increases, it is wasteful and inefficient to send everything across the internet. Local processing lets you send summary data confirming normal operation, or more data in case of anomalies. "Imagine a car sending 10 to 20 times per second, speed, position, angle of wheels, and so on. Do you really want, on a four-lane highway, all this data sent to the cloud?" asks Heusser.
The downside of edge computing, though, is the proliferation of capable devices that are vulnerable to exploits.
Finally, buzzwords four and five. What about Virtual Reality (VR) and Augmented Reality (AR)? They were both there at MWC, but less prominent than one or two years ago. On the VR side, it seems that enthusiasm for big goggles and isolation from the real world is not as big as the industry once hoped. AR remains a powerful concept, but at the level of translating menus or adding random bits of data to the view of the outside world through your smartphone camera, so not all that exciting.
MWC will be back in Barcelona in 2019 and guess what? It will be all about 5G and IoT. ®