A super-rare Spanish copy of the Messerschmitt Me109 fighter of Second World War infamy, which was flown by both British and German aces, has gone up for auction.
The Hispano Buchon, a licence-built copy of the Messerschmitt Me 109G, is the only surviving two-seat model in the world. The aircraft was flown by both Luftwaffe ace General Adolf Galland and famous RAF Battle of Britain pilot Robert Stanford-Tuck.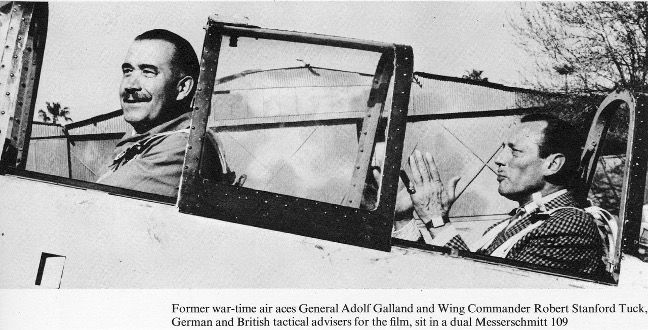 Luftwaffe ace Adolf Galland (L) and RAF ace Bob Stanford-Tuck (R) in the Buchon. Pic: Air Leasing Ltd via Platinum Fighter Sales
Buchon HA-1112-M4L, registered G-AWHC, differs from a standard Me109 in having a British-designed Rolls Royce Merlin engine fitted instead of the German fighter's V12 Daimler-Benz powerplant. The aircraft itself was flown in the famous 1969 film Battle of Britain, the production of which directly led to the preservation of many historic WWII aircraft enjoyed by crowds at airshows today.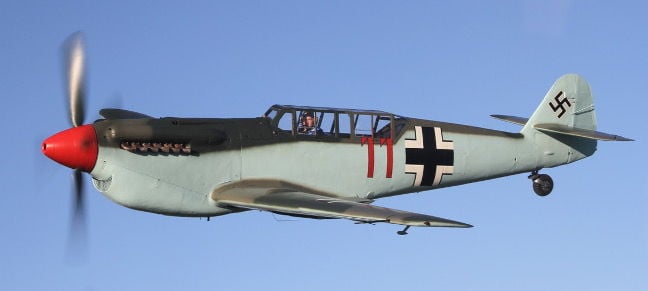 Buchon G-AWHC was built in 1954 in Spain. Pic: Air Leasing Ltd via Platinum Fighter Sales
Just two Buchons of the full production run of 233 were ever built as two-seaters. The first was powered by a Spanish Hispano-Suiza 12Z engine and was designated HA-1112-K1L but was later converted to -M4L specification, making G-AWHC "one of the rarest warbirds available in the market place today," according to auction house Platinum Fighter Sales.
The Buchon was saved from scrap by retired RAF Group Captain Hamish Mahaddie, who, after a wartime career that included service with the famous Pathfinders of RAF Bomber Command, became a well-known finder of Second World War aircraft for films of the 1950s and 1960s – to the point where he became aviation consultant for James Bond filmmakers EON Productions.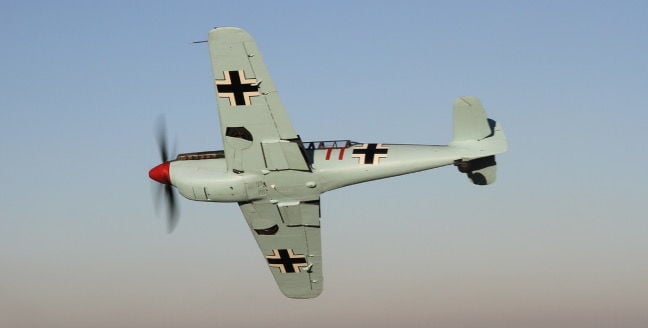 The Buchon's belly. Pic: Air Leasing Ltd via Platinum Fighter Sales
Among the 115 British and German(ish) aircraft that Mahaddie scrounged from sources including the Spanish Air Force was Buchon M4L. After the war, the Spanish had continued to use Buchons and even Heinkel 111 bombers, which were just what the makers of Battle of Britain needed for their aerial dogfight scenes.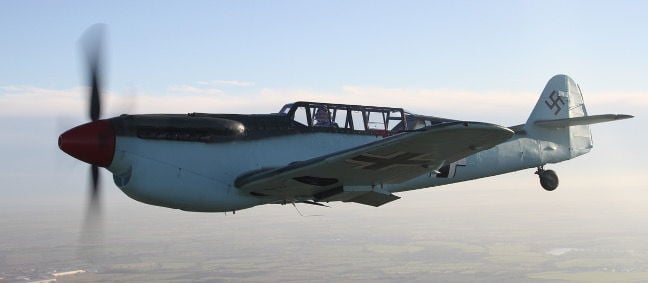 The Buchon in close-up, showing the characteristic bulges over the Merlin engine's cylinder head. Pic: Air Leasing Ltd via Platinum Fighter Sales
Galland – a Luftwaffe fighter pilot and squadron commander who once sarcastically told Hermann Goering, when the Nazi air force chief asked if there was anything he wanted: "Give me a squadron of Spitfires!" – was recruited as a technical expert for Battle of Britain to advise on Luftwaffe flying tactics of the period. On the "opposite" side was retired RAF wing commander Robert Stanford-Tuck, who commanded 257 Squadron RAF during the latter part of the battle itself.
Towards the end of filming, one source recounts, Galland and Stanford-Tuck took G-AWHC up for a flight together, foes turned friends in the same aeroplane. Galland eventually named Stanford-Tuck godfather of his son.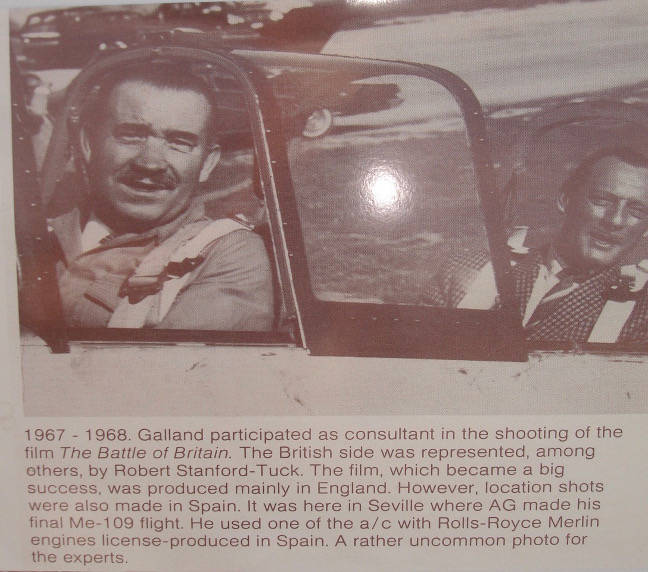 Galland (L) and Stanford-Tuck (R) sitting in the Buchon together during filming of Battle of Britain. Pic: Air Leasing Ltd via Platinum Fighter Sales
Buchon M4L spent the next 45 years languishing in a barn in Texas once filming was finished, having been accepted as payment in lieu of cash by one Wilson "Connie" Edwards, who flew in the film as chief stunt pilot. Once Edwards eventually sold it on in 2014, the aircraft was restored to airworthy condition by UK-based Air Leasing.
The Buchon is up for auction starting at $6m plus VAT. More information is available on Platinum Fighter Sales' website. ®