Europe plans special tax for Google, Apple, Facebook, Amazon
French minister says around two per cent of turnover sounds about right
Bruno Le Maire, France's minister for the economy, has revealed that a plan to levy a special tax on Google, Apple, Facebook, and Amazon will soon be revealed by European authorities.
Le Maire told French newspaper Le Journal du Dimanche "A European directive will be unveiled in the coming weeks, the minister reveals, and it will mark a considerable step forward."
The minister told the paper that a tax of between two and six per cent has been considered, with the proposal to be "closer to two than six."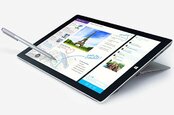 $14bn tax hit, Surface Pro screens keep dying – but it's not all good news at Microsoft
READ MORE
The proposed tax will be levied on the four companies' turnover, rather than profits. Taxing turnover is hoped to offer a simple way to tax the companies, as all use legal-but-cynical ways to minimise their taxable income. Le Maire added that a turnover tax is seen as being quick to implement and that the four companies know they're going to have to pay more tax in Europe, so may be amenable to such an arrangement.
If they are amenable, it will almost certainly be because the alternative is more expensive and/or less pleasant than a turnover tax. Signing up to such a tax would also have the attraction of allowing the four companies to keep their other tax arrangements in place, which would both keep their bills low and maintain the legitimacy of their claims that the real source of profit is outside Europe. ®