This article is more than 1 year old
Paul Allen's research vessel finds wreck of WWII US aircraft carrier
USS Lexington discovered 500 miles off Australia
Pics Billionaire Microsoftie Paul Allen has found yet another sunken warship – an amazingly well-preserved Second World War US aircraft carrier.
The USS Lexington was scuttled about 500 miles off the eastern coast of Australia in May 1942 after sustaining serious damage from Japanese aircraft. A series of secondary explosions after the Japanese attack sealed the ship's fate and one of her own escorting destroyers was ordered to finish off the crippled carrier.
Around 200 sailors were killed in the Japanese attacks, though about 2,750 were rescued by the carrier's escorting task force before she was given the coup de grâce.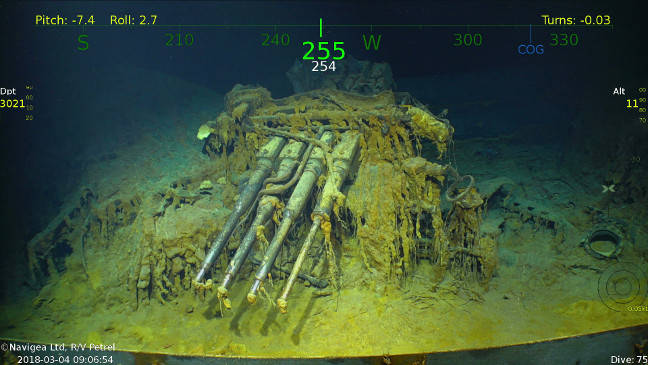 One of USS Lexington's anti-aircraft guns, as rediscovered by Paul Allen's team. Copyright Navigea Ltd
The wreck of the "Lady Lex", as she was known, was discovered by the crew of Allen's research vessel, RV Petrel, on 4 March at a depth of 3,000m and was positively identified when her nameplate was found on the remains of the ship's stern. The wreck is in exceptional condition for its age, as are the aircraft still scattered across the ocean floor.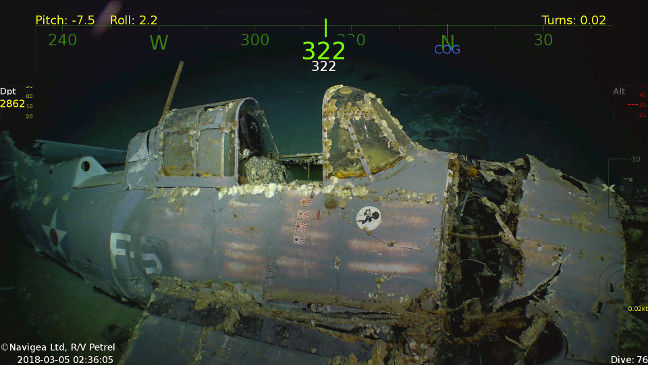 A Grumman Wildcat fighter of USS Lexington, as discovered by Paul Allen's team. Copyright Navigea Ltd
Allen made his billions as co-founder of Microsoft alongside Bill Gates. His passion for underwater archaeology is well known; a few years ago he discovered the wreck of the Japanese battleship IJN Musashi, and also recovered the bell of British battlecruiser HMS Hood, which sank in the Straits of Denmark after a lucky hit from German battleship Bismarck. More recently, Allen's six-engine monster aeroplane undertook ground taxying tests in New Mexico, America.
Lady Lex's air wing consisted of Douglas-built Dauntless and Devastator bombers as well as Grumman Wildcat fighters. A cluster of Devastators found on the ocean floor by Petrel's remotely operated underwater vehicle (ROV) is so well preserved that they look as if they sank only a few weeks ago.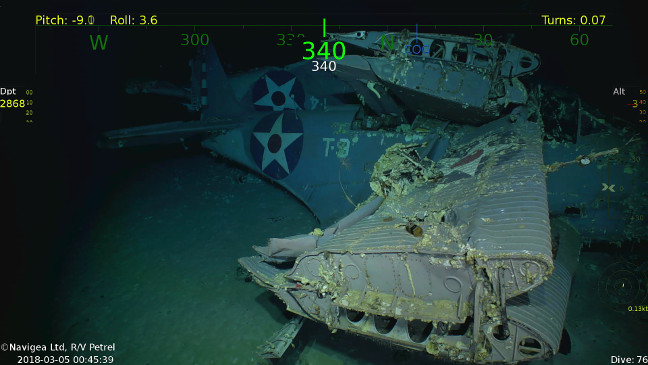 USS Lexington's Douglas Devastator bombers, as rediscovered by Paul Allen's team. Copyright Navigea Ltd
The US Naval Institute published a reasonably detailed article some years ago on the battle that doomed the Lexington, the Battle of the Coral Sea. It was notable as the first major carrier-on-carrier fight where neither side's ships came within sight of each other. ®