This article is more than 1 year old
BlackBerry hopes phone flinger Punkt is feeling lucky to be new licensee
Dolbyfication continues
BlackBerry has found another licensee for its Dolby-like licensing initiative, "Secured by BlackBerry", and expanded the venture way beyond smartphones.
From now on, licensees won't need to take BlackBerry's version of OS to earn a "Secured by BlackBerry" accreditation, and potential devices could include not just smartphones but embedded devices, so long as they conform to BlackBerry's secure manufacturing process.
Among other things, TCFKAR* is now a cybersecurity and device management software business, and it's keen to secure IoT gear, more and more of which is running Android. So you could argue it's much needed. As the famous Joy of Tech cartoon imagines.
Essentially, BlackBerry has "productised" its distinctive manufacturing process, and is licensing it. This allows the company to pursue a Dolby-like branding strategy. The first licensee is Swiss consumer electronics designer Punkt, which sells a striking (and not cheap) feature phone, the MP01. Punkt has yet to design and sell a smartphone.
Back in the days when it made phones, BlackBerry injected each one with a unique crypto key, signing the software, which gave a unique identifier, or PIN. It carried this forward to Android, and now it's going to work with any manufacturer who agrees to the process.
Alex Thurber, SVP of BlackBerry's mobility division, told us the deals would be "not bespoke, but customised" for each manufacturer.
The exact wording of the brand mark hadn't been finalised, he told us, but we could expect it to be "Secured by BlackBerry" or something close. For devices that don't have a display – like medical equipment – it would be different.
"We have a workstation on the manufacturing line. The final stage is where you load the software onto the device; we inject the key and sign the software. It's connected to [BlackBerry UK HQ] Waterloo, so that when the phone is activated it can go and query and make sure it's the right device – and it is not running on some black market hardware."
The initiative requires BlackBerry's engineers to work more closely with the open-source Android base, said Thurber, and any kernel the manufacturer wants to use "so long as my engineers can secure it".
For its own "hardened" cut of Android, which first appeared on the Priv in late 2015, BlackBerry opted to shun the standard SELinux Android kernel and use the GRsecurity kernel.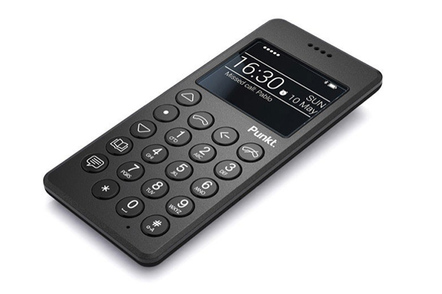 Punkt MP 01 ... Dumb but mindful
"We'll be working with the standard AOSP distribution and make the modifications to it," confirmed Thurber. "The very base level depends on the manufacturer – whatever they want to use. And we'll make sure we can harden that."
Punkt is BlackBerry's second licensee for the initiative, which launched in 2017. It's somewhat better known than the first: NTD, aka the Yangzhou New Telecom Science and Technology Company.
BlackBerry's exploitation of its IP and brand has taken a few twists and turns to get here. Three years ago at MWC, BlackBerry announced that it would license almost all its middleware and apps software in three bumper bundles. At the time it vowed to port these to iOS.
But the strategy didn't last long. There were no takers: few iOS equivalents were ever produced (just the essential secure workspace container you need to run legacy BlackBerry enterprise services), and some apps like Blend were canned altogether.
Others, like the Hub email client and notification-catcher, did made their way into the Google Play store. Instead BlackBerry made an Android and licensed it on a territorial basis, with Chinese giant TCL grabbing the largest chunk, becoming the new home of "BlackBerry Mobile", a phone company, and essentially a startup.
Thurber couldn't comment on the BBM lawsuit against Facebook filed yesterday – it's all just a weird coincidence. ®
*Bootnote
The Company Formerly Known As RIM