This article is more than 1 year old
Hey Alexa, Siri and Cortana: Cisco says you're bad at business
Borg thinks own Spark voice assistant knows how to behave in the office, but we've seen it and … meh
VID Cisco will shortly give the world a voice assistant it believes has a shot at making life uncomfortable for Siri, Cortana and Alexa in the office.
The company's effort won't be a general-purpose bot. Instead the company plans to make it a part of its Spark collaboration portfolio and have it do things like place calls, find documents and open meetings.
The assistant was announced in November 2017, but The Reg today beheld a live demo of the tool at Cisco Live in Melbourne. Forgive us the shot-on-a-phone handheld footage, but here's what Cisco feels is fit for public consumption.
Cisco's senior veep and general manager of applications Rowan Trollope told the event that "existing voice assistants that have traction - none of them were built for business. They were built for the consumer domain. That is a totally different domain space to the one we are interested in."
"Those are very, very specific use cases and have their own domain and lingo."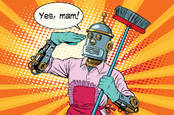 Talk down to Siri like it's a mere servant – your safety demands it
READ MORE
Trollope said feats like those in the video above – such as finding the particular people called "Michael" you are likely to want to call – aren't the sort of things consumer-focussed AI assistants are likely to achieve.
Cisco therefore thinks it can combine its strong positions in collaboration hardware and software into an AI play.
"We think there is a great opportunity to do that kind of AI in business," Trollope said.
But he couldn't or wouldn't say when Cisco would do it: the demo above was described as a prototype, was presented by one of the team working on it and promised to become part of an update to Cisco's Spark suite rather than earning a major launch in its own right.
Trollope also mentioned that Cisco's partnership with Apple could see Spark and Siri strike up a conversation, because he doesn't feel this is a winner-takes-all market. ®