This article is more than 1 year old
What took you so long, BlackBerry? Facebook BBM suit is way overdue
Legal eagles knock heads for IP battle
Analysis When WhatsApp founder Jan Koum complained that Apple was ripping off his app, the derision from the BlackBerry community was instant.
"Anybody who's followed the development of WhatsApp from its earliest days knows that WhatsApp 100 per cent systematically ripped off BBM feature by feature. WhatsApp shamelessly stole," wrote Kevin Michaluk. People who live in glass houses shouldn't throw stones.
very flattering to see Apple "borrow" numerous WhatsApp features into iMessage in iOS 8 #innovation

— jan koum (@jankoum) June 2, 2014
The only remarkable thing about BlackBerry's litigation against Facebook and Instagram is that it took so long to file.
That's because, BlackBerry says, it tried to get the social media outfits to do the right thing and pay a licence fee, but they have refused.
Facebook acquired WhatsApp in 2014 for $19bn, or $45 for every user's address book (the intrusive app rummages through your contacts many thousand times a week). BlackBerry's lawsuit covers not just Facebook's eponymous home-grown Messenger but Instagram too. Today WhatsApp has 1.2 billion users and doesn't even pretend to make money from it. The free IM services prevents rivals creating a layer of communication infrastructure.
Not the first, but the best
When Gary Klassen created BBM in 2005, BlackBerry wasn't inventing messaging – IM applications were well established on the desktop for a decade with ICQ, AOL Instant Messenger, and MSN Messenger. Nor was it the first to realise that presence (aka status – where you are and what you're doing) was vital to mobile communications. I recall a trip around Nokia's labs in 2003 where they had built presence into its own IM clients based on your sound profile (e.g. that your Nokia was set to the Meeting profile). Nokia wanted the industry to have a standard – this is one of many patents on the server infrastructure handling IM presence. But Nokia was never very assertive about pushing it through the labyrinthine GSMA committees.
What BlackBerry did with BBM was define what people expected mobile messaging to do. BBM was "a social network in a box". BBM made group creation easy and the messenger app became the default UI to the entire app. RIM acknowledge its central role in users' lives when it added music sharing to the app, and later (too late), mobile payments too. So the two ex-Yahoo! employees didn't have far to look for what was then the market leader. Those delivery receipts were a straight rip. When WhatsApp appeared in 2011 it was a BBM clone for the iPhone.
But the company formerly known as RIM made a major miscalculation: for too long it reckoned that BBM's features were so unique, people would choose a BlackBerry over a rival phone they liked more just to get those features. It imagined consumers thinking: "Damn, I must buy the BlackBerry rather than the superior iPhone with the crappy BBM clone." Yes, BBM retained nice advantages over the clones: WhatsApp didn't add read receipts until its fifth birthday late in 2014. But BlackBerry didn't uncouple this proprietary social network from its proprietary hardware until 2013, giving WhatsApp, WeChat and others time to establish a huge user base. And because it's a social network, people tend to go where other people are.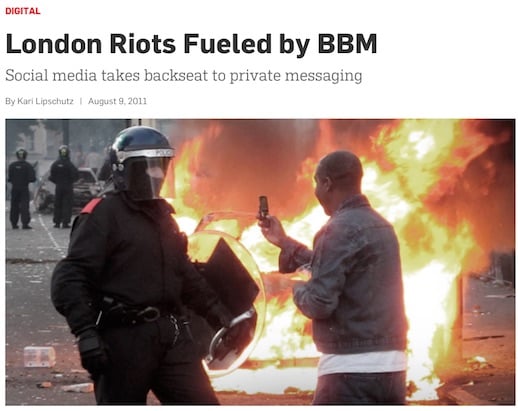 Yesterday's moral panic
Facebook has few qualms about ripping off rival features. To counter the rapid rise of Snapchat, Facebook just went through looking which features it could clone. Snap Inc has been slow to respond, but protecting specific IP rather than ideas should be much easier for BlackBerry, which spun BBM out some time ago.
"It is surprising to see such an array of negative opinions towards the action being taken by BlackBerry against Facebook," says Matt Jones, at the law firm EIP. It's irrelevant, he points out, if a service or product has become "common" – a court needs to decide whether it was "new and inventive at the priority date of the patent, which could be more than a decade ago".
"If Facebook has infringed BlackBerry's patents, the latter has every right to monetise its intellectual property."
There are many improvements to be made to the patent system. But at the end of the day, if you can't protect your invention – if you are unable to prevent it being ripped off – then every argument will be settled not by reason or justice, but by brute force. The most thuggish party wins. ®