Nokia transceiver bakes years of demos into superfast optical chip
200 Gbps per wavelength on sub cables, 400 on metro networks, 600 in data centres
Two years after it first demonstrated its highest-capacity modulation scheme, Nokia has announced its release as a product.
The company will show off its PSE-3 (photonic service engine) in San Diego next week, at the OFC Conference.
Nokia claimed even over long-haul submarine cable systems, 200 Gbps (per wavelength) can be deployed nearly everywhere, regional-scale links can run at 400 Gbps, and data centre interconnects can support 600 Gbps per wavelength.
Nokia's announcement says the PSE-3 can increase network capacity by "65 percent over currently deployed networks" at 60 percent lower power, and can be applied to carrier networks from the metropolitan to submarine cables.
The release of the chip represents the commercialisation of technology demonstrated in field trials in 2016 and 2017.
In 2016 Nokia worked with Deutsche Telekom and the Technical University of Munich, and hit 1 Tbps per wavelength at metro distances. Last year, Nokia claimed 250 Gbps per optical channel in a field trial of the technology on Facebook's submarine network from New York to Ireland.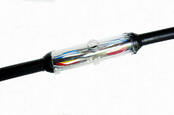 Nokia blasts 250 Gbps across Atlantic in optical test for Facebook
READ MORE
The chipset gets its capacity from a technology dubbed "probabilistic constellation shaping" (PCS), in which the silicon chooses the lowest-noise phase/amplitude combination (the best points on a "constellation" of possible modulations) to carry data.
The PSE-3 uses QAM-64 (quadrature amplitude modulation), meaning it's got 64 constellation points to choose from, with continuous sampling to adjust to conditions on the fibre.
In the video at the bottom of the page, Nokia Bell Labs' director of optical transmission subsystems Peter Winzer says the point is "to optimally shape your symbol constellations to get as close to the Shannon limit as you possibly can."
Winzer also explained that the "shaping" of the algorithm is in an ASIC-hosted function called a "distribution matcher" that "is responsible for making sure that the symbols of a QAM constellation occur with different probabilities".
In this white paper (PDF), Nokia outlines the performance in terms of the mathematics of the Shannon limit (for the pedants, the Shannon-Hartley theorem that predicts maximum information capacity on a given channel in the presence of noise).
Constellations and MIMO to take fibre to a future beyond the terabit
READ MORE
"Modern, high performance optical interfaces and WDM line systems operate within approximately 1.5 – 2.5 dB of the Shannon limit," the paper said, claiming that the PSE-3 gets within 0.3 dB of the limit.
"By focusing energy on lower amplitude symbols as the data rate decreases, probabilistic shaping transforms a square constellation pattern into a more Gaussian-like shape. This provides an improved fit to the Shannon Gaussian noise model, resulting in performance gains very near to the Shannon Limit", the white paper added.
Last year, Nokia Bell Labs' Dr Laurent Schmalen explained PCS to El Reg in an interview. ®