This article is more than 1 year old
Ofcom to probe Three and Vodafone over network throttling
Telcos may have breached EU net neutrality rules
Gummy mouthed watchdog Ofcom has launched a probe into whether Three and Vodafone breached the EU's net neutrality rules by throttling certain services on their networks.
The UK regulator is investigating whether some of the 4G mobile plans offered by operators are compliant with Europe's Open Internet Access Regulation 2015.
Under EU regulations, which came into effect on 30 April 2016, providers must treat all internet traffic on their networks equally, and must not give preferential treatment to any particular sites or services.
Ofcom is specifically looking at Three's practices of restricting tethering, putting limits on the devices in which a SIM can be used, such as where a SIM purchased for a mobile phone cannot be used in a tablet; and "throttling" or intentionally slowing down particular categories of traffic.
Vodafone is also to be probed for throttling, including where traffic management is applied when customers are roaming, and the transparency of exceptions in its "Vodafone Passes" products, which mean that certain functions use customers' general data allowance.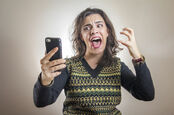 Vodafone customers moan about sluggish data abroad
READ MORE
A Three spokesperson told us: "We'll be working closely with Ofcom to understand their concerns."
Vodafone said it was "very disappointed" with Ofcom's decision to target Vodafone Passes. The operator added it does not "throttle" speeds on Vodafone Passes, either in the UK or while customers are roaming.
"We developed Vodafone Passes in direct response to customer feedback and have provided clear information to customers about how they work. We will be explaining all of this to Ofcom during the course of their investigation."
Traffic management through "throttling" is not uncommon. Last year, O2 admitted to deliberately throttling its network as a "temporary measure" to combat the demand of Brits using free data roaming abroad.
Ofcom will publish a further update on both investigations in June. "Should we identify specific issues, we may initiate separate investigations of named providers and take enforcement action against them if appropriate," it said. ®