This article is more than 1 year old
Half the world warned 'Chinese space station will fall on you'
Except you there in the UK: you've got no chance of catching Tiangong-1 debris
If you read the New Zealand Herald, you're (a) probably a Kiwi, and (b) building a bunker because you expect a Chinese space station to drop on your head.
Or you could be a Newsweek reader, in which case you're digging bunkers because it's going to drop on your head, not some Kiwi's.
If you're in Western Australia, you're probably hoping to issue China's space agency with a littering fine (that's happened before).
Why? Because we still don't know where China's falling Tiangong-1 is going to hit – only that the re-entry band remains the same as was predicted in January by The Aerospace Corporation.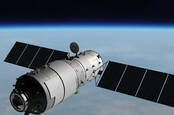 What's Chinese and crashing in flames? No, not its economy – its crocked space station
READ MORE
The highest-probability zones are also as they were in January: northern US states, a chunk of southern Europe into western Asia, China, and the two Koreas (great), or south of the equator, Argentina, Chile, Tasmania in Australia, or New Zealand.
That tells you that even though the retired space station is practically skimming the atmosphere, its ground track hasn't yet been impacted – and until that happens, there's no way to tell where it's going to hit.
It's altitude is another thing. As the chart below from the European Space Agency shows, Tiangong-1 has lost roughly one-fifth of the altitude recorded in January.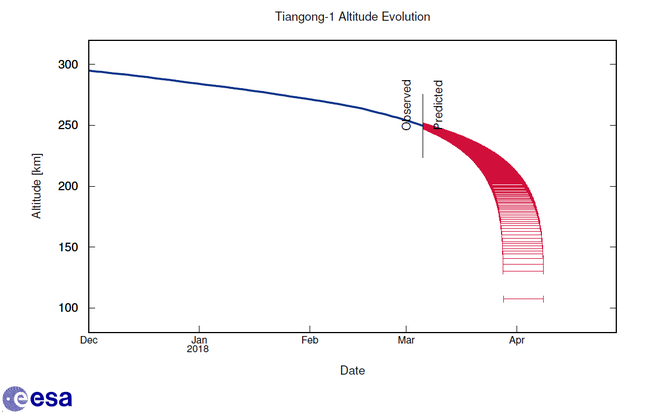 The European Space Agency suggests a "highly variable" re-entry window from 29 March to 9 April, and The Aerospace Corporation roughly agrees.
Tiangong-1 was a successful mission, given that it was operational for three years longer than its planned 2013 re-entry date. But China lost telemetry with the hulk in 2016 and like the rest of us has been trying to figure out where it will land ever since. ®