This article is more than 1 year old
Two years and $19bn later: What happened to WD's SanDisk enterprise flash advantage?
Market position evaporating in front of our eyes
Analysis Western Digital is letting its acquired market share in enterprise SSDs slip away from a revenue and capacity perspective as rival Micron - now infused with ex-SanDisk execs - keeps on growing like a weed.
According to TrendFocus estimates, tweaked by Wells Fargo senior analyst Aaron Rakers, SSD unit sales for each major vendors were as followed:
Samsung grew 40 per cent
Intel grew 21 per cent
Western Digital grew 13 per cent
Toshiba grew 9 per cent
Micron grew 5.5 per cent
Total enterprise SSD capacity shipped was 7.18EB, up 29 per cent year-on-year from 5.57EB. A capacity share pie chart provides a starting point for a look at what's happening: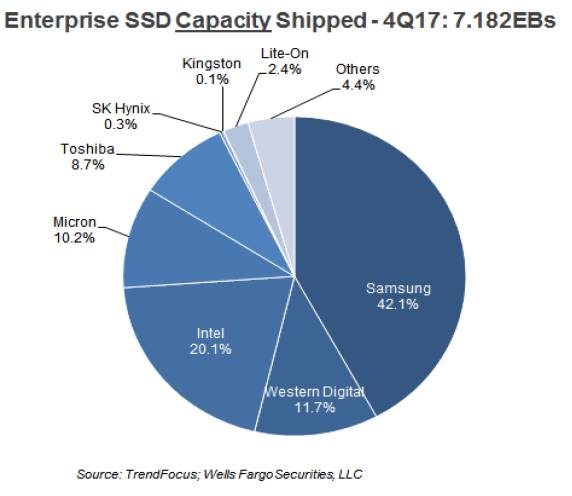 Then the following history chart shows how we got here: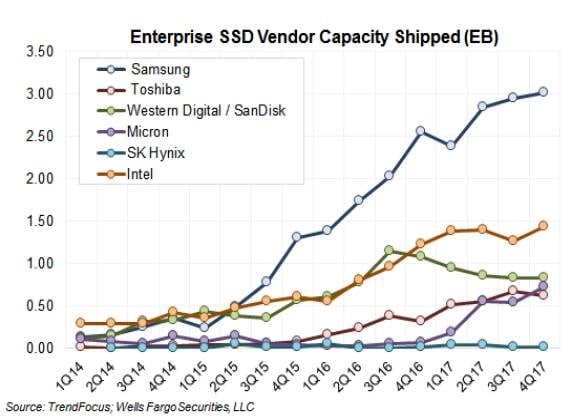 Samsung shipped 3.02 exabytes of estimated capacity in Q4, up 18 per cent year-on-year. Its capacity shipment share was 42 per cent, which is less than the 46 per cent it had a year ago.
Intel had a 20 per cent capacity shipment share, down from the 22 per cent a year ago.
Western Digital shipped 0.84 exabytes of total enterprise SSD capacity in Q4, 11.69 per cent of the total shipped, down 22.5 per cent year-on-year and flat sequentially. Its recent peak share was 24 per cent in 2016's Q3.
Micron had a 10 per cent enterprise SSD capacity shipment share, compared to its 1 per cent a year ago.
Toshiba's capacity share was 8.7 per cent.
WDC bought SanDisk in October 2015 for $19bn. The deal closed in May 2016. Since then SanDisk CEO Sanjay Mehrotra and a string of other execs have joined Micron, now run by Mehrotra. It's tempting to see much of Micron's gain as WDC's loss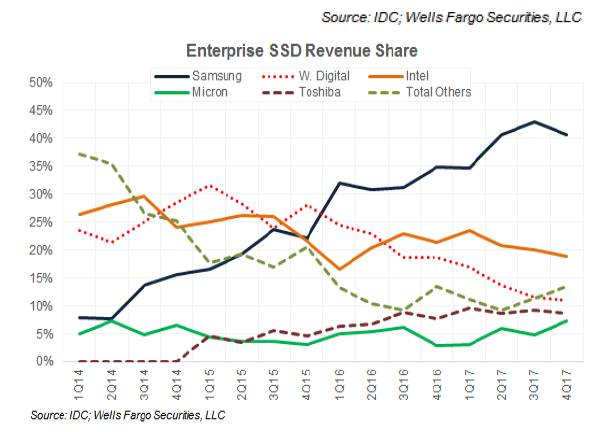 The enterprise SSD revenue share chart above shows WDC's revenue share was greater than 30 per cent at the start of 2015, when it had the leading share of eSSD capacity shipped - the firm is now heading towards 10 per cent share for capacity.
WD could actually be overtaken this year both in eSSD revenues and capacity by Toshiba and Micron – and it's not just in enterprise SSDs:
Combining enterprise and client SSDs, WDC (SanDisk then) had a number 2 revenue share position for much of 2014, behind Samsung, and again in early 2017. Now it has slipped into the number 4 position behind Intel and the Others category, as Samsung shows everyone how to run an SSD business.
Reg comment
No company spends $19bn to watch all that market share ebb away - WD executive jobs, or more likely those of the grunts, will be on the line if this continues.
A WD spokesman told us it was "very comfortable with our balanced NAND allocation for high-value product segments", whoch accounted for a high proportion of our supply versus that for merchant NAND customers."
He pointed to recent public confirmation of a new line of CSSD PCIe products based on WD's proprietary controller architecture; the first UFS product for mobile; and commencement of 96-layer tech, BiCS4, NAND tech. ®