RTBF Trial UK Information Commissioner Elizabeth Denham has declared war on Google, urging the High Court to throw out the ad biz's defences in the Right To Be Forgotten trial because they are "impermissibly broad".
"If Google were right in its approach to the concept of 'journalism', that would yield a result whereby the commissioner would in practice be stripped of any effective regulatory powers in respect of Google's search operations," thundered Denham, whose written submission to the court was prepared by barristers Anya Proops QC and Rupert Paines.
The ongoing Right To Be Forgotten trial features two people, referred to publicly as NT1 and NT2, who have made a legal first by taking Google to court in London over their data protection rights. The Information Commissioner was granted permission to intervene in NT1's case by trial judge Mr Justice Warby.
Denham's submissions were adopted by NT1's barrister, Hugh Tomlinson QC, who explicitly referred to them in his closing speech to the court yesterday, saying:
"We do say this is not journalism, not within the journalistic exemption. The submissions are made in paragraph 26 of the ICO's submissions."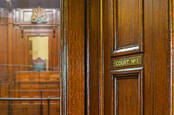 Does Parliament or Google decide when your criminal past is forgotten?
READ MORE
Among other things, Google claims that its search results ought to benefit from the journalism exemption to EU data protection laws. Though its barrister, Antony White QC, acknowledged that the EU court decision that created the right to be forgotten explicitly said that journalism "does not appear to be... [what data] processing carried out by the operator of a search engine" falls under, in legal terms White argued that that court did not rule it out completely.
This argument enraged the ICO, which said in the submission: "The concept of 'journalism' presupposes a process by which content is published to an audience pursuant to the taking of human editorial decisions as to the substantive nature and extent of that content."
In plain English, humans (mostly) don't decide what appears in search results so calling Google's activities "journalism" is just plain wrong, according to the commissioner.
"In effect," she continued, if the High Court accepted Google's argument and let it be protected by the journalism exemption, the ad-supported firm "would be able to operate the right to be forgotten regime almost entirely free from regulatory oversight and control".
Denham has also set out her stall against social media companies, telling Parliament during a hearing yesterday that "nobody is making the argument any more that these are benign platforms". ®
Similar topics