The United States' Securities and Exchange Commission (SEC) has again warned investors to be ever-so-careful when considering cryptocurrencies, because so-called "exchanges" for the assets fit all the definitions of a subject—to-regulation exchange other than having signed up for that regulation.
In a March 7th public statement the Commission said "Online trading platforms have become a popular way investors can buy and sell digital assets, including coins and tokens offered and sold in so-called Initial Coin Offerings ('ICOs')."
The statement later adds "The SEC staff has concerns that many online trading platforms appear to investors as SEC-registered and regulated marketplaces when they are not. Many platforms refer to themselves as 'exchanges,' which can give the misimpression to investors that they are regulated or meet the regulatory standards of a national securities exchange."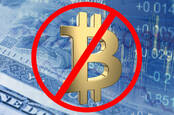 Suspicion of villainy leads Facebook to ban cryptocoin ads
READ MORE
The SEC appears to have signalled to such services that it's time to file some paperwork, because the statement also said "If a platform offers trading of digital assets that are securities and operates as an 'exchange,' as defined by the federal securities laws, then the platform must register with the SEC as a national securities exchange or be exempt from registration."
This has all been done in the interest of investor protection: the statement reminds would-be crypto-investors that "The federal regulatory framework governing registered national securities exchanges and exempt markets is designed to protect investors and prevent against fraudulent and manipulative trading practices."
The SEC has been here before, and recently, with a warning to finance professionals that cyrptocoin are securities, sternly-worded guidance to businesses adopting blockhain-related names and hosing down celebrities like Paris Hilton who lent their names to initial coin offerings.
With this new warning, the SEC has again shown it's deeply worried about cryptocurrency operations. Such scepticism could be why Bitcoin's values has fallen from over US$20,000 to under $9,000 in recent months. Enthusiasm for blockchain, however, remains strong: The Reg hears near-constant news of its adoption for serious work by reputable companies. ®
Similar topics